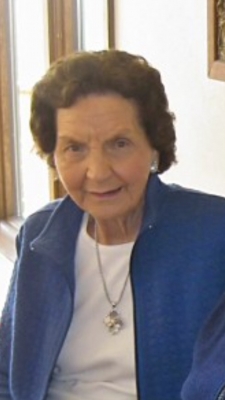 Barbara A. Bauer, age 91 of Durand, died peacefully in her sleep on Saturday, February 25, 2017 at her home in Durand.

Barb was born in Durand WI on March 24, 1925 to Oscar and Anna (Traun) Schlosser. She was raised in the Town of Canton, rural Buffalo County, along with two brothers and five sisters. She attended a one room school for a few years and later graduated from Sacred Heart Catholic School at Lima. After high school, Barb worked at the Durand Hardware Store until she married.
On May 30, 1944, Barb married Edmund C. Bauer at Lima Holy Rosary Catholic Church. After marriage, they farmed and raised their nine children in Prissel Valley in the Township of Lima. Barb attended college at UW-Eau Claire and graduated in 1972 with a Bachelor's Degree in special education, then attained her Master's Degree in 1979. After Edmund's death in 1972, Barb taught as a special education teacher in the Arkansaw School District until her retirement in 1992. Barb touched the lives of many students, several of whom kept in contact with her after retirement. Barb loved the family farm and continued to live there until 2014 when she moved to the City of Durand to live with her daughter.

Barb cherished life and welcomed every day as a gift. She had a passion for learning, enjoyed reading, and loved traveling the world with her friends. She was an avid and competitive card and scrabble player, was gifted at playing the piano, and loved listening to Lawrence Welk. Most of all, Barb loved spending time with her family and friends. She was quick to greet them with a big smile and a warm hug and eagerly offered them a bite to eat and a place at her table to catch up on life. Her love and inspiration will remain in our hearts forever.


Barb is survived by her children; Linda (Tom) Donohue of Des Plaines, IL, David (Pat) Bauer of Durand, Marge (David) Linse of Mondovi, Elizabeth Bauer of Durand, Jane Bauer of Eau Claire, Kathryn (Dennis Odegard) Bunning of Durand, Alicia Lahti of Montecito, CA and Michael X. (Kim) Bauer of Durand, 13 grandchildren; Mary (Joel) Osman, Anne (Joe) Hoffer, Angela (David) McCormick, Kenneth Bauer, Justin (Senaca) Bauer, Peter Linse, Daniel (Melissa) Linse, Brooke (Harrison) Salamone, Josie Bunning, Linse Lahti, Joe (Rachel) Lahti, Neil (Kati King) Bauer, Ashley (Jason) Proue, 18 great grandchildren, one sister, Frances Hurlburt of Durand, nieces, nephews, and many other relatives and friends. She was preceded in death by her parents, husband, Edmund C. Bauer, son, Edmund G.Bauer, granddaughter-in-law, Natalie Linse, two brothers; John and Eddie Schlosser, and four sisters; Sister Margaret Ann Schlosser, Dorothy Anibas, Margie Weisenbeck and Rosemary Carlisle.

The Funeral Mass will be at 10:00 AM Saturday, March 4, 2017 at Holy Rosary Catholic Church-Lima, rural Durand, with Rev. Paul Bosco and Rev. Lawrence Berger officiating. Burial will be in the church cemetery. Visitation will be from 4:00 – 7:00 PM on Friday at Rhiel Funeral Home in Durand and one hour prior to services at the church on Saturday. Lunch will be served in the church basement after the mass and burial.

Memorials given in honor of Barbara A Bauer will be used to support the educational needs of children.

Rhiel Funeral Home & Cremation Services, Durand, is serving the family.