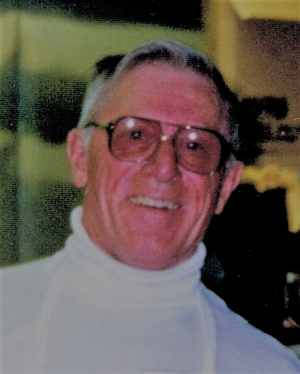 Bernard L. Brehm age 89 of Menomonie died Wednesday March 1, 2017 at The Neighbors of Dunn County in Menomonie.
Bernard was born March 12, 1927 in Menomonie. He was the son of Louis and Louise (Wolbert) Brehm and grew up and lived and farmed in the Irvington area for many years. When the farm was sold Bernard worked for Hofland's Feed Mill. He then worked construction for Century Fence Co. and owned the Country Zone Bar in Downsville. In his retired years, Bernard worked at Don's Super Value as a janitor and also worked with Roger Lee Auctioneers. Bernard lived to dance polkas and waltzes, play cards, hunting and fishing.
Bernard was married to Mabel Metzger and later divorced. To this marriage five children were born, Marilyn, Kathleen, Lois, Donald & Patricia. Bernard remarried Violet Annis and later divorced. To this marriage a son Kevin was born.
Bernard is survived by his children, Marilyn (Dennis) Fedderly, Donald (Julie Hoffman), Pat (Tom) Stoll, Kevin (Cindy Shilts) all of Menomonie, and Lois Schyvinck of Janesville; ten grandchildren, 14 great grandchildren, four step grandchildren; two sisters, Loretta Burns and his twin sister, Bernadine (Ervin) Strehlau, both of Menomonie, many nieces, nephews other relatives and friends.
He is preceded in death by his parents, a daughter Kathleen, a sister Leona Lemke, brothers-in-law, Louis Lemke and Lawrence Burns, a niece, Connie Hillsgrove, a nephew Gary Lemke, sons-in-law, Lee Rudiger and Robert Schyvinck.
Funeral services will be 11:00 AM Monday March 6, 2017 at St. Joseph Catholic Church in Menomonie with Rev. James Kurzynski officiating. Burial will be in the church cemetery.
Visitation will be held from 2:00 to 5:00 PM Sunday at the Rhiel Funeral in Menomonie and one hour prior to services at the church on Monday.
Rhiel Funeral Home & Cremation Services of Menomonie is serving the family.