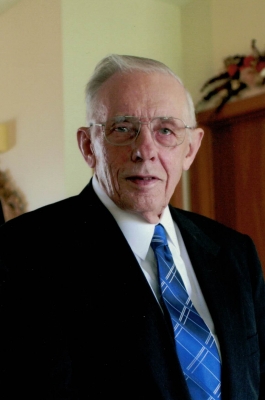 W. Eugene Weiss, age 92, Durand, passed peacefully on Monday, March 6, 2017 at Chippewa Valley Hospital in Durand surrounded by his loving family.
Born in Lima Township on April 14, 1924 to Alfred and Mary Weiss, Gene attended Sacred Heart Catholic School-Lima where he graduated from high school in May of 1941.
The name Gene Weiss is synonymous to many in western Wisconsin with polka music. Since the age of 14, Gene was the accordion leader of several dance bands. First, the Weiss family band that included his mother, father and siblings and later the Gene Weiss Polka Band. The band played for many weddings and dance hall events including Sunday afternoon performances at Club 10. At the peak of the band's popularity, the band played 265 engagements in one year. The band provided many surrounding communities with wonderful entertainment for many years.
Gene met his wife, Evelyn Radle, at one of his performances at Koller Pavilion in rural Durand. They were engaged on February 14, 1947, and united in marriage on August 27, 1947 at St. Joseph's Catholic Church in Arkansaw with a reception at the bride's family home.
In 1954, Gene and Evelyn purchased a dairy farm in Plum City where they raised their eight children. Gene was a respected farmer and a livestock feed dealer with Vigortone for 15 years. However, his favorite responsibility and accomplishment during this time was being a present and caring father, a role he cherished.
Gene held great responsibility and regard for his community. He served on the local ASCS in the Plum City community for many years. In 1965, he was elected Union Township Supervisor winning by the flip of a card. He served two years as supervisor, ten years as chairman and 31 years as treasurer. He also fulfilled a term on the county board for one year.
A devoted Catholic, Gene was a member of St. John the Baptist Church in Plum City. He joined the Knights of Columbus at age 18 and reached the rank of third degree knight. He prayed the rosary daily. For many years, he provided polka music at local masses and neighboring parishes as requested.
With his passing, Gene has returned to his beloved wife of 56 years, Evelyn, and their son Bruce. Also preceding him in death are parents Alfred and Mary, brother Alfred "Fritz", sisters Mildred, Aileen and Thelma, father and mother-in-law George and Mathilda Radle.
He is survived by his seven children: Jim (Verna); Doug (Nancy); David (Leigh); Nancy (Greg) Saueressig; Michelle Weiss; Kevin (Kari); Brent (Heather) and daughter-in-law Jeannie Weiss. Gene was a devoted grandfather and leaves 23 grandchildren and 18 great grandchildren. Also surviving him are siblings Patricia Webster, Donna Saiki and Carole (Jack) Komro. Through his marriage he is survived by Galen Radle, Harvey (Blanche) Radle, Lucille (Roy) Valitchka, Arlene Pittman and Norbert (Maureen) Radle. He is also survived by many nieces and nephews.
While we will no longer be greeted with a warm smile or be able to sing along with him at family celebrations, we have had the honor of knowing a great man with a big heart who brought decades of wisdom, leadership, and joy to many through music and kindness. We extend deep gratitude for the excellent care provided by The Homeplace and Chippewa Valley Hospital.
The Mass of Christian burial will be 10:30 AM, Saturday, March 11, 2017 at Holy Rosary Catholic Church-Lima, N6235 Cty Rd V, Durand with Rev. Paul Bosco officiating. Burial will be in St. John the Baptist Catholic Cemetery in Plum City. Visitation will be from 4-8PM Friday at the Rhiel Funeral Home in Durand and one hour prior to mass at the church on Saturday.
Rhiel Funeral Home & Cremation Services, Durand, is serving the family.
Condolences may be made online at www.rhielfuneralhome.com.