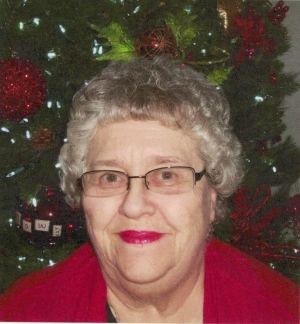 Lois A. Weiss, age 83 of Durand, died Thursday, March 9, 2017 at Sacred Heart Hospital in Eau Claire with her family by her side.
Lois was born on January 5, 1934 in Fall Creek. She was the daughter of George and Hilda (Welke) Strauch. Lois grew up in Eau Claire and graduated from Memorial High School. After high school, Lois worked at Samuelson's in downtown Eau Claire. Lois married Awald J. Weiss on June 26, 1954 in Altoona. After marriage they moved to the town of Albany, rural Pepin County, where they started their family. In 1961 they moved into the City of Durand. In 2014 Lois moved to the Assisted Living of Durand where she remained the rest of her life.
Lois enjoyed knitting, crocheting, sewing, ceramics and word-finds. She also liked to go dancing and playing cards. Most of all, Lois loved spending time with family and friends.
Lois is survived by her daughters; Vicky (Nick) Hartung of Arkansaw and Pamela (Bryan) Bauer of Durand, three sons; Michael (Teresa) of Menomonie, Timothy (Kris) of Red Wing, MN and Mark of Monroe, 13 grandchildren, eight great grandchildren, one sister; Carol Partlow of Oakdale, MN, nieces, nephews, other relatives and friends. She is preceded in death by her parents and her husband; Awald.
Funeral Services will be 11:00 AM Tuesday, March 14, 2017 at St. John Lutheran Church in Durand with Rev. Dan Pfaffe officiating. Burial will be in St. Mary Catholic Cemetery in Durand. Visitation will be from 4-8 PM Monday at the Rhiel Funeral Home in Durand and one hour prior to services at the church on Tuesday.
Rhiel Funeral Home & Cremation Services, Durand, is serving the family.