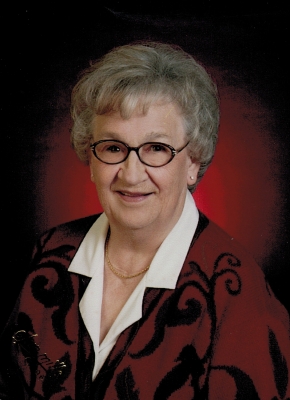 Lorena M. "Rene" Sailer age 91 of Elmwood, died Tuesday, March 14, 2017 at the Heritage of Elmwood Nursing Home in Elmwood with her family by her side.
Rene was born on September 9, 1925 in Elmwood. She was the daughter of Edward and Hannah (Kainz) Marson. Rene grew up in Elmwood and graduated from Elmwood High School. After high school, Rene moved to Milwaukee where worked as an operator at Patek Paint & Glass for a couple years. After WWII ended Rene moved back to Elmwood where she worked for Dr. W. C. Neely. Rene married Frank Sailer on June 5, 1950 at Sacred Heart Catholic Church in Elmwood. After marriage, they took over the family business, Sailer's Groceries and Meat Market. Together they ran the business in Elmwood for many years before retiring in 1995. For the last two years, Rene has been a resident of the Welcome Home Assisted Living in Elmwood.
Rene was an active member of Sacred Heart Catholic Church, she especially enjoyed caring for the flowers around and inside the church. She served on the first UFO Days committee and Rene liked being active for the good the community. Most of all, Rene loved spending time with family and friends.
Rene is survived by her two sons; Ricky (Mary) of Elmwood and Gregory of Menomonie, ex-daughter-in-law; Jackie Sailer of Menomonie, four grandchildren; Jake (Leslie), Jill, both of Elmwood, Justin of Chicago, IL and Andy of St. Cloud, MN, four great grandchildren; Hope, Mason, Morgan and Sam, one sister-in-law; Georgene Marson of Arizona, many nieces, nephews, other relatives and friends. She is preceded in death by her parents, husband; Frank, one grandson; Aaron, two sisters; Rose Huebner and Theresa Franklin and four brothers; Nick, Richard, Erwin "Bud" and John Marson.
Mass of Christian Burial will be 10:30 AM Saturday, March 18, 2017 at Sacred Heart Catholic Church in Elmwood with Rev. Prince Raj officiating. Burial will be in the church cemetery. Visitation will be held from 9:00 AM until the time of services at the church on Saturday.
Memorials are preferred to Sacred Heart Catholic Church or the Welcome Home Assisted Living in Rene's name.
Rhiel Funeral Home & Cremation Services, Elmwood, is serving the family.