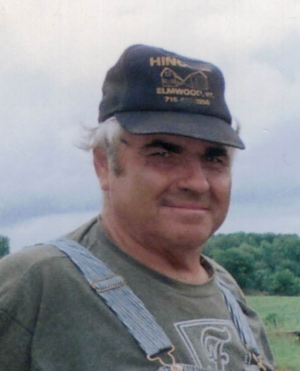 Henry B. Hince age 70 of Elmwood, passed away on Thursday, March 16, 2017 at his home in the Township of Rock Elm.
Hank was born on December 22, 1946 in Eau Claire, WI. He was the son of Frank and Gloria (Kadinger) Hince, Sr. of Plum City. Hank grew up in Plum City and graduated from Plum City High School. After high school, Hank moved to Elmwood where he worked for Hince Inc., taking over as Owner/Operator in the early 1980's. Hank and Dana (Sievwright) were married on January 27, 1968 at St. Joseph's Church in Arkansaw, WI.
Hank loved everything outdoors and never met a stranger he wouldn't talk to. He enjoyed fishing, scuba, and playing cards. He had a gift for construction and enjoyed the challenge of solving problems for others, especially if it involved using his Bobcat. Hank was an active member of Sacred Heart Catholic Church and choir and was also well known in the community for helping anyone that asked, especially neighbors and farmers. Hank will surely be missed.
Hank is survived by his wife, of 49 years, Dana, his children Kris (Jeff) Baines of New Richmond, Daniel (Andrea) Hince of Prescott, Janelle Hince and fiancé Guillermo Origel of Austin, TX, seven grandchildren; Lexi, Taylor, Parker, Conner, Spencer, Claire and Cora. Four step-grandchildren; April, Doug, Jade and Izabella. Two step-great grandchildren; Aiden and Brycen. His siblings, Frank Jr. (Dawn) Hince of Bay City, John Hince of Red Wing, MN, Tom (Linda) Hince of Plum City, Mary (Frank) Falkowski of Ellsworth. Sisters-in-law, Yvonne Hince of Plum City and Jan Hince of New Richmond, as well as several brother and sister-in-law's, nieces, nephews other relatives and friends.
He is preceded in death by his parents, two brothers; Patrick and Peter Hince, and a brother-in-law Norman D. Sievwright.
Memorial services will be 10:30 AM Thursday, March 23, 2017 at Sacred Heart Catholic Church in Elmwood with Rev. Prince Raj officiating. Burial will be at a later date.
Visitation will be held from 5:00 to 8:00 PM Wednesday at the Rhiel Funeral Home in Elmwood and one hour prior to services at the church on Thursday.
In lieu of flowers memorials may be made to Sacred Heart Catholic Church.