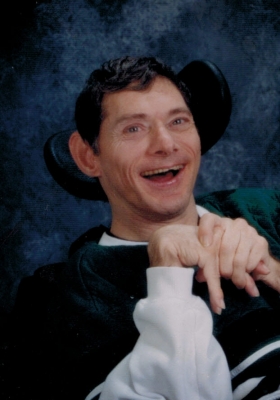 Randy M. Seitz, age 59 of Menomonie, formerly of Elmwood, died Saturday, April 08, 2017 at his home in Menomonie with his family by his side after a brief battle with pancreatic cancer.
Randy was born on August 28, 1957 in Menomonie. He was the son of Freeman and Dorothy (Anderson) Seitz. Randy was diagnosed with cerebral palsy as an infant and lived with family his entire life: first with his parents in Elmwood and California, then, with his sister's family in Missouri. Later, they moved to Menomonie in 2012, where he remained the rest of his life.
Randy loved spending time with people. He was known for his smile, his laughter, and his love of music. He always made friends wherever he went.
Randy is survived by his siblings: James "Jim" (Ruth) of Maplewood, MN, Carolyn (Roger) Lund of Menomonie and Debbie (Rick) Dodd of Mesquite, TX, nieces and nephews: Julie, Doug (Maia), Rob (Sarah), Melissa, Emily (Jairo), Elyse (Keith), Andrea (Ryan) and Olivia (Kingsley), other relatives and friends. He is preceded in death by his parents and one nephew: Ryan Lund.
Funeral Services will be 11:00 AM Tuesday, April 11, 2017 at St. Peter's Lutheran Church in Elmwood with Rev. Guy Bergenthal officiating. Burial will be in the Poplar Hill Cemetery – Rock Elm, rural Elmwood. Visitation will be held from 10:00 AM until the time of services at the church on Tuesday.
Rhiel Funeral Home & Cremation Services, Elmwood is serving the family.