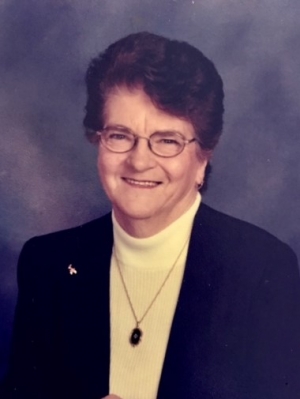 Lucille T. Schumacher age 82 of Elk Mound, died Friday May 5, 2017 at Grace Woodlands Assisted Living in Eau Claire.
Lucille was born June 22, 1934 in Eau Claire. She was the daughter of Frank and Ella(Henning) Pavelski and grew up in rural Eau Claire. She graduated from Regis High School in 1952. Lucille enjoyed playing fast pitch softball in high school and was a very formidable pitcher. After graduation, she continued to play and was invited to pitch for a traveling women's league but declined in order to remain at home with her husband. Lucille married Peter H. Schumacher June 26, 1952 at St. James Catholic Church in Eau Claire.
Lucille was a devoted wife and mother who always put her family first. She and Pete raised a loving family and together they built the family farm and business into a successful thriving part of the community. She loved her garden, baking, helping those in need in her community, and was very involved in her church, St. Joseph's Catholic Church in Elk Mound. She was active in Dunn County Homemakers and helped mentor many young women in this program over the years. An accomplished homemaker and baker, Lucille was affectionately known as the "Candy Lady" for her highly sought after fudge, candy, and baked goods at the Elk Mound Craft Fair. Over the years, she and Pete supported many foster children in need locally as well in India.
Lucille is survived by her children, Susan (Dan) Sivertson of Elk Mound, Julia (John) Oleinik ofCamas, WA, Peter (Jeri) Schumacher of Crystal Lake, IL, Jackie (Josh) Mayers of Verona, WI, Betty (Richard) Bork of Fountain City, WI, 15 grandchildren, five great grandchildren with one more on the way, a brother Richard (Connie) Pavelski of Eau Claire, a sister Betty Halama of Whitehall, WI, a sister-in-law Barbara Schumacher of Elk Mound, several nieces and nephews, and other relatives and friends.
She is preceded in death by her parents, husband Peter, two sons, Tommy and Joseph, and three brothers, James, Frank, and Donald Pavelski.
Funeral services will be at 11 AM Wednesday at St. Joseph's Catholic Church in Elk Mound with Rev. Joseph Nakwah officiating. Burial will in the church cemetery.
Visitation will be from 4:00 to 7:00 PM Tuesday at Rhiel Funeral Home in Menomonie with a Rosary Service at 6:30 PM and one hour prior to services at the church on Wednesday.