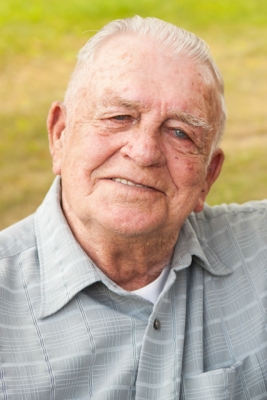 William J. Giertz "Billy Goat" age 92 of Arkansaw, died Wednesday, May 10, 2017 at his home in the Township of Waterville, rural Arkansaw.
Bill was born September 6, 1924 in Menomonie, the son of Henry and Helen (Schultz) Giertz and grew up in Menomonie, graduating from Menomonie High School in 1941. Bill attended Stout Institute for a year before entering the U.S. Army-Air Corps where he served during WW II as a P-38 Pilot. Bill married Francis Newman in 1944 and they raised five children and later divorced. After the service Bill worked for Dotseth Trucking in Knapp. He then worked for Brown & Tetzloff, in Menomonie. In 1954, he started Bill's Distributing, which he owned and operated until his retirement in 1987. Bill married Elizabeth Lien in 1982 and together they had two children and they resided in Arkansaw and remained there the rest of their lives.
Bill enjoyed hunting, fishing, his yearly trips to Canada, camping on Marsh-Miller Lake, his Wednesday night meetings at the Spot, and spending time with his family and friends.
Bill is survived by seven children Terry (Rosie) Giertz, Linda (Wayne) Hogg, Bob Giertz, Randy (Pam Purdy) Giertz all of Menomonie, Kim (Dave) Karis of Whitewater, Missy (Rick) Hinrichs of Arkansaw, Marcie Tomlinson(Ben Reeser) of Arkansaw, five step children, Bob (Sue) McDonnell of Trempealeau, Mickey (Denny) Wentworth, Ronald McDonnell, Mary (Tony) Harmon, Melinda Selburg, all of Arkansaw, 27 grandchildren, 28 great grandchildren, two sisters, Frances Shalbreck of Rhinelander, Betty Holden of Menomonie, several nieces, nephews and other relatives and friends.
He is preceded in death by his parents, wife Betty, one brother Jim, two sisters, Doris Morris and Marion Scott, and his beloved dog Chipper.
Funeral Services will be 11:00 AM Monday May 15, 2017 at St. Joseph Catholic Church in Arkansaw with Rev. Joseph Okine-Quartey officiating. Burial will be in the church cemetery with Military Honors provided by the Durand American Legion Post #181 of Durand.
Visitation will be from 4:00 PM – 8:00 PM Sunday at the Rhiel Funeral Home in Durand and one hour prior to services at the church on Monday.