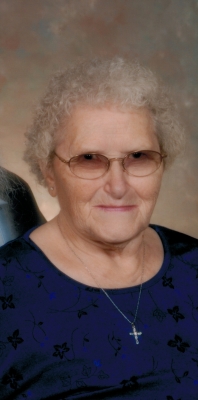 Luetta M. Schlosser age 82 of Hudson, formerly of Spring Valley, passed away Thursday June 29, 2017 at Christian Community Homes in Hudson surrounded by her family.
Luetta was born February 9, 1935 in the Township of Rock Elm, Pierce County rural Plum City. She was the daughter of John and Emma (Hill) Schmitt and grew up in that area. She graduated from Elmwood High School in 1952. Luetta married Leonard Schlosser, September 9, 1952 at St. John's Catholic Church in Plum City. After marriage they made their home in the Township of Spring Lake, rural Spring Valley where they farmed in partnership with her father. Besides farming and raising her family, she later drove school bus for the Spring Valley School District for twenty plus years.
Luetta and Leonard took in many foster children over the years. She enjoyed sewing, baking, gardening, canning, going to the casino, traveling, but mostly spending time with her family and friends.
Luetta is survived by five children; Patricia O' Bryan of Spring Valley, Steve (Dawn) Schlosser of Elmwood, Evelyn Morehouse (Rick Palla) of New Prauge, MN, Donna Blodgett of Hudson, Russell (Laurie) Schlosser of Spring Valley, and foster daughters Marilyn Prosser of Spring Valley, Darlene (Roger)Funk of Sarona, 10 grandchildren, 12 great grandchildren, other relatives, friends and several foster children.
She is preceded in death by her parents, her husband Leonard in 2012, a son-in-law, Wes O'Bryan in 2000, and her sister Alferna Schmitt.
Funeral services will be 10:30 AM Friday July 7, 2017 at Sacred Heart Catholic Church in Elmwood with Rev. Prince Raja officiating. Burial will be in St. John's Cemetery in Plum City.
Visitation will be held from 4:00 to 7:00 PM Thursday at the Rhiel Funeral Home in Elmwood and one hour prior to services at the church on Friday.