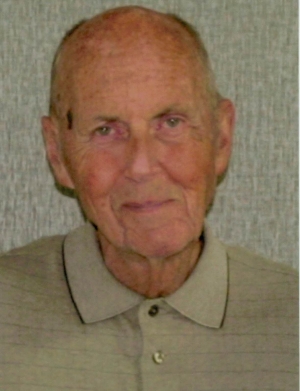 Jack Arthur Ganzemiller passed away on Sunday, July 9, 2017 at Pepin Health and Rehab. He was born June 18th, 1930 in Cincinnati, Ohio to Howard and Louise Ganzemiller.
In his early teens he moved to Speedway Indiana. Jack had a love of music, and was a talented musician. He was a drum major for his high school band and played several musical instruments. He played in dance bands throughout his high school and college years.
He graduated from Speedway High School and completed a 5 year Cooperative Engineering program with Allison Division and General Motors Institute in Flint, Michigan.
Jack interrupted his college studies to enlist in the US Air Force where he was a flight crew chief. After he completed his degree he was hired by Allison in Speedway where he also worked as a fire/rescue official at the Indianapolis 500. Jack continued his education at Purdue University where he met his future wife, Judy on a blind date. They were married December 7, 1958 and made their first home in Speedway. After the birth of their first child Kathy they decided to return to Purdue where Jack earned his Master's Degree in Industrial Management. Their second daughter Kristina was born in 1963, the same year Jack was hired by Stout State University. In 1967, twins Kurt and Karen were born. After several years at Stout, Jack initiated the Field Experience Program now known as Cooperative Education. He then became program director of Business Administration until his retirement in 1989.
Jack spent 30 years as a Paid-On-Call member of the Menomonie Fire Department. It was a big part of his heart. As Jack faced the challenges of aging, many of his most vivid memories were of his emergency activities, the people he helped and the friends he made along the way. Jack always believed in volunteering and neighbors helping neighbors. It was with this belief in mind that he organized the Dunn County Medical First Responders.
Jack was the recipient of many awards over the years, which recognize his time and the talent he imparted to others, including the Distinguished Teacher at U.W. Stout, Menomonie Chamber of Commerce Good Neighbor Award, American Red Cross Chippewa Valley Fire/Medic Hero. In 2011, the Paid-On-Call Firefighters of the Menomonie Firefighters Association established the annual Jack Ganzemiller Distinguished Service Award to recognize current or retired Menomonie Firefighters who have embodied Jack's qualities of courage, leadership, dedication and mentorship. A Jack Ganzemiller Fire/Medic scholarship is also awarded annually at the Chippewa Valley Technical College.
Jack and Judy spent many years traveling the US by train and riverboat, and enjoyed spending winters in Port Aransas,TX.
Jack believed in giving back to people, and also cared for the environment. He planted large vegetable gardens and countless seedling trees. He loved being outdoors, caring for animals and taking photographs.
Jack is survived by his wife Judy, children Kathy (Charlie) Wendt, Kristina (Kurt) Stellpflug, Kurt (Alessa) Ganzemiller and Karen (John) Utley, grandchildren Amy (Teal) Warthen, Aaron (Jen) Wendt, Alex and Kerstin Ganzemiller and Wyatt and Whitney Puent, Kyle (Tess) Stellpflug, Chad Stellpflug and Morgan Stellpflug, great grandchildren Catcher, Shiloh and Canyon Warthen and Braxton Wendt, sisters and brothers in law Chuck (Glenda) Payne Cindy (John) McMahan, nieces, nephews and an extended family of Winter Texans.
Jack was preceded in death by his parents, and son-in-law Albert Puent.
A time of remembrance will be during the hours of 11am-2pm at the Town of Dunn Hall N2713 Highway 25, Menomonie, Wisconsin on Saturday, July 15th.
In lieu of flowers, contributions are requested to the Jack Ganzemiller Fire/Medic Scholarship at Chippewa Valley Technical College in Eau Claire or to the Dunn County First Responders.
Rhiel Funeral Home & Cremation Services, Durand, is serving the family.