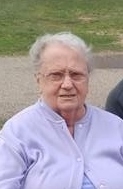 Judy M. Finn, age 77 of Plum City, formerly of Waterman, IL died Sunday, July 9, 2017 at Mayo Clinic Health Systems – Eau Claire.
Judy was born on October 28, 1939 in Plum City. She was the daughter of Lyle "Pete" and Arlene (Rice) Catura. Judy graduated from Elmwood High School in 1958. After high school, Judy married Jerome W. "Jerry" Finn on February 14, 1959 in Elmwood. After marriage, they moved to Freeport, IL for Jerry's job. Eventually living in St. Charles, MO, Petersburg, IL and Waterman, IL before returning home to Plum City in 2006.
Judy enjoyed gardening, crafts and playing solitaire. Most of all, she loved spending time with her family and friends.
Judy is survived by her children; James of Davenport, IA, Julie Gill of Troy, NC, six grandchildren, six great grandchildren, one brother; David Catura of Plum City, one brother-in-law; Jim Fredrickson of Superior and one sister-in-law; Joan Catura of Miami, FL, nieces, nephews, other relatives and friends. She is preceded in death by her parents, husband; Jerry, two brothers; Garry and Doug and two sisters; Glenda and Donna.
Funeral Services will be 11:00 AM Friday, July 14, 2017 at Rhiel Funeral Home in Durand with Rev. Daniel Pfaffe officiating. Burial will be in the Forest Hill Cemetery in Durand. Visitation will be from 10:00 AM until the time of services at the funeral home on Friday.
Rhiel Funeral Home & Cremation Services, Durand, is serving the family.