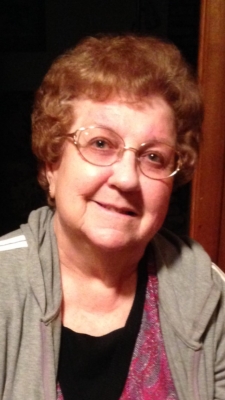 Edith M. Prissel died peacefully after a brief illness at Chippewa Valley Hospital in Durand on Monday, July 10, 2017, surrounded by her loving family. She was 82 years old.
Edith Marian Hurlburt was born on September 21, 1934, to George and Linda (Dutter) Hurlburt, and lived on the family farm on the Maxville Prairie with her brother, Bertrude, and sister, LaVerle. She always referred to anyone who lived or grew up in that area as "prairie sand burrs". She went to school through the second grade at the Lower Spring Brook School. She loved to tell the story of her parents walking her to school, and her beating them back to the farm, since she didn't like being away from them. George and Linda's son, Bert, took over the farm, and they moved to Durand with little Edie around 1944. Edith went to school in Durand, graduated in 1952, and began working at The Federal Reserve Bank in Minneapolis. She then moved back to Durand where she worked at the Security National Bank.
She started dating the love of her life, Francis F. Prissel when she was 20 and he was 28. They were married on October 12, 1954. She often said that God saved Fran for her. They began raising a family, and Edith quit working at the bank to stay home with the kids. Francis and Edith had 5 children. Their youngest, Jimmy, died of cystic fibrosis in 1973 when he was just 9 years old.
Edith began working at The Courier Wedge, the local paper, after the death of Jimmy. Being busy with work, and the wonderful people at the Wedge, helped Edith through that difficult time. She worked there for many years until the paper was sold and she started working again at Security National. She loved visiting with the bank customers, and they loved her. She so enjoyed the staff at the bank, and even though she retired in 2000, she frequently went down for coffee.
Francis died in August of 2012, and it became harder and harder for Edith to get around. She moved to the Homeplace of Durand in November of 2016, and then recently to the Plum City Care Center, until her illness.
Edith loved her family and friends. Even though she suffered many losses, Edith still found joy in the simple things life had to offer. She will be so missed by those who loved and knew her.
Edith is survived by her son, Mike (Tina) Prissel; daughter, Jane (John) Winter; son, Chuck (Jonathan Timm) Prissel; daughter-in-law, Pat Prissel; grandchildren, Matt (Sara Denure) Prissel, Mark (Danielle) Prissel, Shannon Prissel, James (Tracy) Prissel, John (Avery) Winter, Jake (Marisa Polzer) Winter; great-granchildren, Ethan, Elaina, Chelsea, Emma James, Brynleigh, John Beckett, and Olivia.
She is preceded in death by her parents, George and Linda Hurlburt; husband, Francis F. Prissel; children, John Prissel and Jimmy Prissel; grand-daughter, Jenna Winter O'Donahue; brother, Bertrude Hurlburt; and sister, LaVerle Fahnel.
Funeral Mass will be 10:00 AM Saturday, July 15, 2017 at St. Mary Catholic Church with Rev. Paul Bosco officiating. Burial will be in the church cemetery. A celebration of Edith's life will be held at Rhiel Funeral Home in Durand on Friday from 4:00PM to 7:00PM and an hour of visitation before the Mass on Saturday.
Memorials may be in Edith's name to the Cystic Fibrosis Foundation.
Rhiel Funeral Home & Cremation Services, Durand, is serving the family.