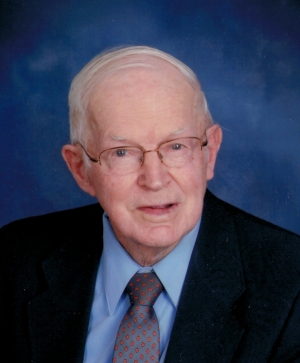 Donald Hawn Churchill, 91 of Elmwood, passed away on Friday, August 11, 2017. Donald will be eternally remembered for his love and commitment to the Rock Elm United Methodist Church.
Donald was born October 5, 1925 in Rock Elm, Wisconsin, to Harold and Lois (Hawn) Churchill. He grew up on the family farm in Rock Elm and later graduated from Elmwood High School. Donald married Eileen Bradshaw on September 9, 1950. They began their married life farming with Donald's father, Harold, and brother, George. In 1956 Donald and Eileen moved to Minneapolis for work and in 1959 returned to Rock Elm to raise a family of five sons on a dairy farm. Don and Eileen remained dedicated to dairy farming in spite of the great storm of 1980 when they lost their barn and many livestock. In 1993, Donald retired, sold the farm, and moved to Menomonie. He soon became "unretired," working part time for various employers and finally working full time for Genesis Industries from 1999 to 2005. Donald remained in Menomonie until moving to Welcome Home Assisted Living in Elmwood in 2016.
Donald found enjoyment in the simple things of life: raising children, cherishing grandchildren, socializing with family and friends, eating his fresh garden produce, taking family vacations, and carrying on his father Harold's commitment of support for the church Ice Cream Socials. Most importantly, he was strong in his faith and ready for his heavenly home.
Donald is survived by his five sons, Mark (Jeanne Skoog) of Columbia Heights, MN; Craig of Phoenix, AZ; Jay (Ruth) of Houston, TX; Bradley (Cara) of Hager City, WI; Dell (Missy) of Elmwood, WI; nine grandchildren, Steven, John, Derek, Brandon, Nicholas, Corey, April, Jill, and Erika; great grandchild Topanga Churchill, brother George Churchill of Elmwood, and many nephews, nieces and cousins.
Preceding him in death were his wife Eileen, sisters Jean Hatch and Grace Thiele.
Funeral Services will be 10:30 am Tuesday, August 15, 2017 at the United Methodist Church in Rock Elm, rural Elmwood. Reverend Mike Weaver will officiate. Burial will be in the Popular Hill Cemetery in Rock Elm. Lunch will be served at Welcome Home Assisted Living in Elmwood.
Visitation will be 4:00 pm to 7:00 pm Monday at the Welcome Home Assisted Living in Elmwood and one hour prior to services at the church on Tuesday.
In lieu of flowers, memorials will be accepted in Donald's name to his beloved Rock Elm United Methodist Church.
Rhiel Funeral Home & Cremation Services, Elmwood, is serving the family.