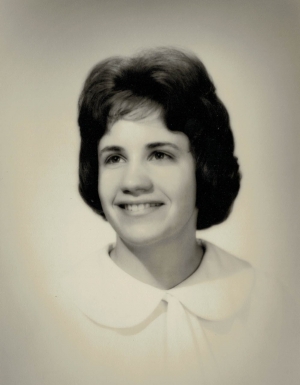 Joan J. Schoeneberger, age 75 of Durand, died Wednesday, August 23, 2017 at the Mayo Clinic Health Systems-Eau Claire with her family by her side.
Joan was born on October 28, 1941 in Milwaukee. She was the daughter of Jerome and Genevieve (Hopp) Nicholson. Joan grew up in the Milwaukee area and graduated from the Dominican Prep School in 1960. After high school, Joan attended St. Catherine's College in St. Paul and graduated with a B.S. in Occupational Therapy. Joan met the love of her life, William Schoeneberger, on a blind date on April 7, 1962. They were married on August 7, 1965 Main Post Chapel in Ft. Knox, KY. After marriage, Bill enlisted as a Captain in the Military and Joan served as an Officer's Wife for over three years. Together Joan and Bill started their family and raised them in various parts of the country as Bill's job transferred him. Once her children were raised, Joan returned to her original occupation as an Occupational Therapist where she worked until retiring at age 71. After retirement, Joan and Bill moved to Durand to be closer to family.
Joan loved taking care of her family at young age, she kept the home light burning while Bill was on the road. From cooking, baking, tutoring school and coordinating their religious education. She also enjoyed doing crafts, needle point, knitting and sewing.
Joan is survived by her husband of 52 years; Bill, three children; Bill II (Lynn) of Vergas, MN, Brian (Barbra) of Durand and Karla (Stephen) Grubb of Cripple Creek, VA, four grandchildren; Alphonse, Paul, Ethan and Elizabeth, four sisters; Nancy (Herman) Schmidt of Lisle, IL, Patricia Nicholson of Milwaukee, Peg Krueger of Chandler, AZ and Mary (James) Havel of St. Louis, MO, one brother; Tim Nicholson of Farmington Hills, MI, nieces, nephews, other relatives and friends. She is preceded in death by her parents and one sister; Susan Kirkham.
Funeral Mass will be 11:00 AM Monday, August 28, 2017 at Holy Rosary Catholic Church-Lima in Durand with Rev. Paul Bosco officiating. Burial will be in the church cemetery. Visitation will be one hour prior to services at the church on Monday.
Rhiel Funeral Home & Cremation Services, Durand, is serving the family.