Kathleen A. "Kathy" Schlosser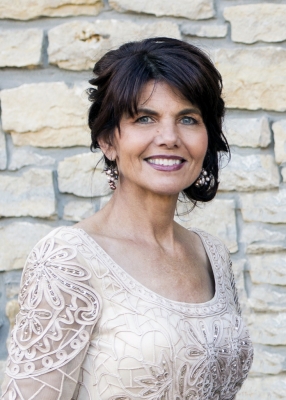 Kathleen Ann "Kathy" Schlosser, age 59 of Durand, died Wednesday, August 23, 2017.
Kathy was born December 14, 1957 in Rock Falls, arriving first along with an identical twin sister, Kristine Baier. Kathy was the daughter of Clement and Ruth (Broberg) Hayden of Rock Falls. She grew up on the family farm and graduated from Durand High School in 1976. Kathy married her high school sweetheart, Randy Schlosser, on July 15, 1978 at Rock Creek Lutheran Church. She attended cosmetology school and worked as a stylist at the Hair Hut in Durand for 30 years. Kathy also spent her spring seasons working at the Olson Farms Green House in Mondovi, tending to flowers and helping customers.
Kathy was an incredibly thoughtful and caring person, consistently going out of her way to bring joy to others. She could often be found volunteering at church or lending a helping hand to family and friends. Kathy was passionate about taking care of animals, tending to her flower gardens, and mowing the lawn at her family's farm. She also enjoyed spending time with "card club" friends, going on weekend car rides, and finding a great bargain at the thrift store. More than anything, she cared deeply for her family and two precious grandchildren.
Kathy is survived by her husband of 39 years, Randy, two children, Paul (Katie) of Apple Valley, Lindsay (Michael) Arnold of Stillwater; two grandchildren, Claire Schlosser and Gavin Arnold; mother, Ruth of Rock Falls; five siblings, brothers Gary (Judy) of Eau Claire, Mike (Sue) of Durand, Ronnie (Renae) of Arkansaw, Mark (Tiffany) of Lolo, MT, Eric (Jenny) of Rock Falls; twin sister, Kristine Baier (Charlie) of Eau Galle, along with numerous nieces, nephews, other relatives, and her card club family. She is preceded in death by her father, Clem.
Funeral Mass will be 11:00 AM Tuesday, August 29, 2017 at Holy Rosary Catholic Church-Lima in Durand, with Rev. James Kurzynski officiating. Burial will be in the church cemetery. Visitation will be held at the Rhiel Funeral Home in Durand from 4-8 PM on Monday, and one hour prior to services at the church on Tuesday.
In lieu of flowers, memorials are preferred in Kathy's name or to the organization of your choosing.
Rhiel Funeral Home & Cremation Services, Durand, is serving the family.