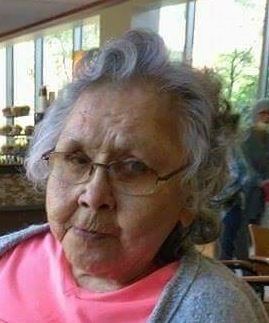 Mary Rose Brunette age 80, originally from Red Lake, MN, recently of Menomonie, died Tuesday August 29, 2017 at The Neighbors of Dunn County in Menomonie, WI.
Mary is survived by her children, Debi (Jim) Bissionette, Patrrick (Tami) Bonga, Ron Barcardi and Carol (Noel) Galarza, several grandchildren and great grandchildren.
She is preceded in death by her parents Peter and Cecelia (Martin) Beaulieu, a daughter Diane Beaulieu, three sons, David & Duane Beaulieu and Donald Brunette, five brothers and two sisters.
Memorial services will be held at 1:00 PM Saturday September 2, 2017 at St. Mary's Catholic Church in Red Lake, MN with Rev. Jerry Rogers officiating. Burial will be in the church cemetery at a later date.
Online condolences may be made at www.rhielfuneralhome.com
Rhiel Funeral Home & Cremation Services of Menomonie, WI is serving the family.