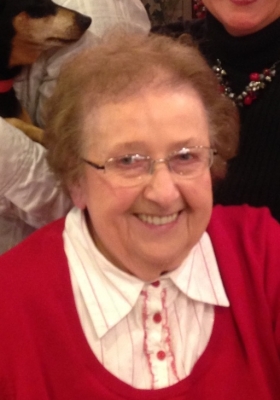 Lucian E. Bauer, age 88 of Durand, joined her loving family who preceded her in death on September 10, 2017 while at The Home Place in Durand with her family by her side.
Lucian was born on December 27, 1928. She was the daughter of William and Edith (Schuh) Radle. She attended the Cranberry Creek Country School and grew up in the Rock Falls area. After school, Lucian met the love of her life, Anton A. "Tony" Bauer, while working at the Durand Bakery. They were married on June 24, 1947 at Sacred Heart Catholic Church in Mondovi. After marriage, they farmed and raised their family on the Bauer family farm in the Town of Lima, rural Durand. She continued to farm and raise her family after the death of Tony in 1975 and received multiple awards for her land conservation efforts. She sold farm fresh eggs to the local grocery store and community. In 1980, Lucian moved off the farm to a home in the Town of Lima and started her volunteer career. Lucian worked for the Town of Lima and City of Durand Election Committees, American Red Cross Blood Mobile, Pepin County Senior Center volunteer, Holy Rosary Altar Society and Pepin County Homemakers Association and was homemaker of the year recipient. Lucian bought a condo in the City of Durand in 2004 after her children took her chainsaw away, and she continued her volunteer services. In January 2017, Lucian chose to move into The Home Place in Durand where she made a lot of friends and memories.
Lucian enjoyed playing cards, cooking, gardening, canning, bowling, bird watching, quilting and cross stitching. Most of all, Lucian loved to spend time with her family and friends, especially her grandchildren (taking the sorry cards out of the Sorry game).
Lucian is survived by her children; Janet (Tim) Goss of Ooltewah, TN, Deb (Lonnie) Richardson of Arkansaw, Sue (Tom) Milliren of Arkansaw, Mary (Doug) Sinz, Jackie (Don) Danzinger, both of Durand, and Annie (Brad) Bauer of Arkansaw, Mike (Audrey) Bauer of Eleva, Gerald Bauer of Durand and Tony (Diane) Bauer of Eau Claire, 29 grandchildren, 35 great grandchildren, two sisters-in-law; Phyllis and Karen Radle, nieces, nephews, other relatives and friends. She is preceded in death by her parents, husband, Anton, daughters; Darlene Bauer and Elaine Berger, grandson; Scott Bauer, special friend; Roy Milliren and her brothers and sisters.
Lucian's family would like to thank the staff of Sacred Heart Hospital and The Home Place in Durand for their loving care and support.
Funeral Mass will be 11:30 AM Wednesday, September 13, 2017 at Holy Rosary Catholic Church-Lima, rural Durand with Rev. Paul Bosco officiating. Burial will be in the church cemetery. Visitation will be held from 4PM-7PM Tuesday at the Rhiel Funeral Home in Durand and one hour prior to services at the church on Wednesday.
Rhiel Funeral Home & Cremation Services, Durand, is serving the family.