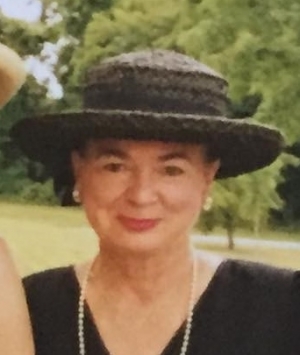 Joan Theresa Binkowski, 85, from Elmwood, Wisconsin entered into the Kingdom of Heaven on Saturday, Sept 9 at Luther Hospital in Eau Claire, Wisconsin. She was surrounded by her sisters, brothers, and cousin.
Joan was born on July 28, 1932 to Anthony and Arcella Binkowski of Elmwood Wisconsin. She was a devout Catholic who loved her family, their dairy farm, nature, education, and music. While attending Elmwood High School she participated in band and choir, and performed along with her sisters Dorothy and Mary Lou as "The Binkowski Sisters" at many regional venues. The sisters notably performed on the WCCO "Cedric Adams" and Menomonie's WMME radio shows in the early 1950's. They performed popular songs of the day including: "Chattanooga Choo Choo," "Summer Time," "The Old Master Painter," "That's My Desire," and the family favorite "Ave Maria" Many of Joan's friends and family remember the sisters singing the Andrew Sisters "Hurry Hurry Hurry " and "The Holy City" around the piano at family celebrations.
Joan earned an Elementary Education Degree from UWRF and a Master's of Science at the University of Minnesota. She taught at the University of Minnesota, New Richmond WI Elementary Schools, and White Bear Lake MN Elementary Schools. She taught hundreds of children to love learning, and explore the great outdoors. She had a deep belief that every child should be given a fair opportunity to be their very best and she was set on her classrooms becoming that special place to create, explore, learn, and challenge. She retired in 1998 and continued supporting nieces and nephews in their pursuit of higher education.
Joan loved the outdoors, animals, and travel. She cherished special trips skiing with her brother Leo, traveled extensively in Europe, South America, and the Caribbean with her sisters and friends. She often was found feeding birds, admiring the changing seasonal landscape, and relishing in fresh snowfalls. Special moments were shared with her sister Dorothy enjoying the flowers carefully designed on the family farm in Elmwood, antiquing with her brother Mark, visiting with Fr. Jim, talking about fishing with Frank and Tony, talking about education with her sisters Mary Lou and Carol.
In her later years Joan was a resident of Elmwood's Heritage Home. She had many friends and enjoyed helping the staff cook, creating art, hosting entertainers, and meeting the families of those residing with her. Joan loved young people and the promise of tomorrow. She loved to cook and share her wisdom at the same time. In one family cookbook, that housed her prize recipe for Russian Tea Cakes she professed, "Pies always open your Eyes! Never look back on sad things. Always look forward. God is there!"
Joan is survived by her siblings, Mary Lou (John) Klisiewicz of Davis CA, Carol (Greg) Van Dyke of Durand WI, Dorothy Binkowski Allen, Mark Binkowski, and Tony (Marge) Binkowski all of Elmwood WI, two sisters-in-law, Janie Binkowski of Rochester, MN and Judy Binkowski of Menomonie along with 14 nieces and nephews. Joan is welcomed in heaven by her parents Anthony and Arcella, her brothers, Fr. James, Frank and Leo, a brother-in-law Walter Allen and two nieces Mary Jane and Elizabeth.
Joan will be deeply missed, but forever remembered by those who knew her, who loved her, and who learned from her. A Catholic Mass and funeral will take place on Saturday, Sept. 16 at Sacred Heart Catholic Church in Elmwood, WI.
Funeral services will be 11:00 AM Saturday September 16, 2017 at Sacred Heart Catholic Church in Elmwood with Rev. Prince Raja officiating. Burial will be in the church cemetery.
Visitation will be held one hour prior to services at the church on Saturday.