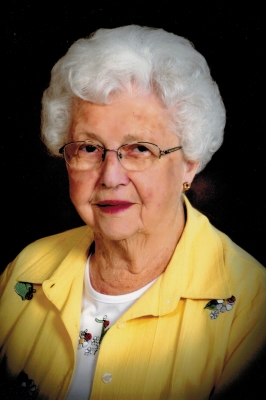 Dorothy M. Stratton age 93 of Menomonie, passed away on Monday September 11, 2017 at Mayo Clinic Health System-Red Cedar in Menomonie.
Dorothy was born September 17, 1923, in the Township of Eau Galle on the family farm. She was the daughter of William and Martha (Laschinger) Hofacker and grew up in the Eau Galle Community. Dorothy graduated from Durand High School in 1940, Dorothy worked for various families and also at the Helmueller Grocery Store in Eau Galle. She married Clarence Stratton May 4, 1943 at St. Henry's Catholic Church in Eau Galle. After marriage they farmed in the Township of Weston and they later bought the Stratton family farm in the Township of Menomonie, where they farmed and raised six sons. They farmed until they retired in 1996 and moved into Menomonie.
Dorothy was active in Homemaker's, 4H, and was a 4H leader. She was active member of St. Joseph Catholic Church and the Altar & Rosary Society. She enjoyed gardening, crocheting, quilting and she belonged to St. Joseph's quilt group. Dorothy enjoyed playing cards and bingo.
Dorothy is survived by her six sons, William (Elaine) of Prairie Farm, Chuck (Dianne) of Colfax, Ken of Bloomington, MN, Doug (Chris), Dennis (Julie) of Menomonie, Mark (Carol) of Colfax, 13 grandchildren, 14 great grandchildren; a brother Walter (Dorothy) Hofacker of Spring Valley, several nieces, nephews other relatives and friends.
She is preceded in death by her parents, her husband in 1998 and her sister Betty Sabelko.
Funeral services will be 10:30 AM Thursday Sept. 14, 2017 at St. Joseph's Catholic Church in Menomonie with Rev. James Kurzinski officiating. Burial will be at St. Henry's Cemetery in Eau Galle.
Visitation will be held from 4:00 to 7:00 PM Wednesday at the Rhiel Funeral Home in Menomonie and one hour prior to services at the church on Thursday.