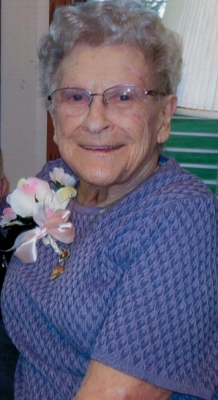 Our Mom, Grandma, Great Grandma & Great Great Grandma, Elaine A. Thompson age 92 of
Prescott passed away in the early morning hours of September 24, 2017, at the Prescott Nursing Home & Rehab in Prescott, WI.
Elaine was born June 29, 1925 in the Township of Eau Galle, Dunn County. She was the daughter of Philip and Margaret (Weisenbeck) Weber and grew up in the Elmwood area. Being the oldest of 14 children, she became the "second mom" to her many brothers and sisters. Elaine married Lon W. Thompson on November 8, 1943. After marriage, they made their first home in Elmwood and began raising their family. Later they moved to Hastings, MN and Prescott, WI, where she and her husband have remained the rest of her life.
Elaine enjoyed crocheting and making afghans for each of her children and grandchildren. Elaine also enjoyed the satisfaction of doing 1000 puzzles, collecting postage stamps, playing cards and spending time with family and friends.
After almost 74 years of marriage, Elaine died 40 hours after her husband, Lon. Elaine is survived by her children: Judy Nelson of Duluth, MN, Wayne (Trish) of Hastings, MN, MarJory (Steve) Sagstetter of River Falls, WI, Donna Woodbeck of Cottage Grove, MN, Joy (Edward) Isackson of Hastings, MN; ten grandchildren: Paul, Annette, Scott, David and Jill; Molly and Mike; Christine; Adam and Lindsay. Thirteen great grandchildren and one great-great granddaughter also survive her. Siblings, Joyce (Lester) Hines of Ellsworth, Mary Webb of Elmwood, Margie (Jim) Carter of Wheeler, Tom (Sharon) Weber of Elmwood, Leon (Shirley) Weber of Hartland, WI, Barb (Kelly) Rassbach of Menomonie, David (Christine) Weber of Waukesha, many nieces, nephews, other relatives and friends.
She is preceded in death by her parents, husband: Lon, a daughter: Linda Campbell, an infant son: Larry Phillip, a sister; Carol Wittig, five brothers: M. Delbert, Daniel, Philip Jr, Patrick and
Roger. In addition, she leaves behind several sister-in-laws who also loved her to pieces.
Funeral services for Lon and Elaine will be 11:00 AM Tuesday, September 26, 2017 at the Sacred Heart Catholic Church in Elmwood with Rev. Prince Raja officiating. Burial for both Lon and Elaine will be in the church cemetery.
Visitation for both Lon and Elaine will be held one hour prior to services at the church on Tuesday.
In lieu of flowers, memorials may be given to the family to be shared with Lon and Elaine's favorite charities.
Rhiel Funeral Home & Cremation Services, Elmwood, is serving the family.