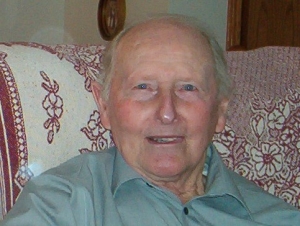 Harry John Bergmark, age 96, went to his heavenly home on Tuesday, September 26, 2017. Harry was under hospice care at the Plum City Care Center. He lived in Pepin County since birth until he moved to the Plum City Care Center in August 2012.
Harry was born February 8, 1921. His parents were August and Hulda (Seyffer) Bergmark. Harry grew up on the family dairy farm run by his grandfather, Nils John, and then his father, August, on Big Hill north of Pepin, Wisconsin. Harry attended Big Hill Country School and Pepin High School. Harry graduated as Valedictorian in 1938. He met his wife Ellen Zeilinger at a local dance and they were married November 26, 1946.
He helped raise seven children with Ellen. Harry began farm life using work horses. The dairy was the main focus of the work, but Harry maintained a small apple orchard for a few years after marriage and raised hogs and chickens. The farmland consisted of rolling hills so Harry incorporated many conservation measures and crop rotation to produce corn, alfalfa and oats to support the cattle and sell. He served as country school board Treasurer as did his father and grandfather. He traveled with Ellen to the Seattle World's Fair, Chicago for an AMPI conference, Phoenix, Atlanta and Mancos, Colorado to visit daughters. Harry and Ellen took road trips into California, Arizona, Arkansas, Georgia and saw many states along the way. Harry flew overseas to Germany where daughter Betty was stationed, serving in the Army. One of the more recent trip with Ellen and daughter Betty took the group through Canada, visiting Niagara Falls, Gettysburg and then Monmouth Cave in Kentucky
Harry partly retired from dairy farming by moving off the main farm site to a nearby country home where he stayed active by walking over to the main farm run by his sons John and Jim. From this farm home Harry and Ellen moved to Durand in 1996. When health issues slowed their travels, Harry and Ellen built a home near the family farm on Big Hill and made nearly weekly trips to the country to continue to enjoy rural life close to the farm he was raised on.
Harry was a simple, easy-going, smart and frugal man. Early in life his nickname was "Happy Harry". He was hard-working and spent many hours painting and maintaining his farm buildings. He took great pride in his production of abundant crops through good soil management and developing a quality dairy herd. He was a member of St. Mary's Parish in Durand and sacrificed much to make the weekly trip to Sunday Mass from Big Hill. In summer Harry took his children down to the Chippewa River for set-line fishing. In winter Harry often spent hours cracking black walnuts. He loved playing cards with friends, neighbors and his family.
Harry is survived by two sons, John of Menomonie and James (Judy) of Pepin, five daughters, Jean (Joe) Edlin of Stockholm, Betty Bergmark of River Falls, Karleen (friend, Gary Wyrick) Walton of Bayfield, Colorado, Janet (Fiancé Tim Fagerstrom) Bergmark of St. Paul, Minnesota and Lori (Laura) Bergmark of Woodbury, Minnesota. Harry is also survived by four grandchildren, Joshua Walton of Bayfield, Colorado, Natasha Walton of Denver, Colorado, Tony Edlin of Stockholm and Todd Edlin of Duluth, Minnesota. He is also survived by one brother, Alvin (Irene) of Red Wing, Minnesota. Harry has many nieces and nephews.
Harry was preceded in death by his wife, Ellen, his parents, sister, Virgie Seifert, son-in-law, Scott Walton and brother-in-law, Donald Seifert.
The family wishes to express their gratitude to the wonderful staff at the Assisted Living of Durand, Plum City Care Center and Mayo Hospice.
Funeral Mass will be 11:30 AM Monday, October 2, 2017 at St. Mary's Catholic Church in Durand with Rev. Paul Bosco officiating. Burial will be in the church cemetery. Visitation will be 4:00 PM – 7:00 PM Sunday at the Rhiel Funeral Home in Durand and one hour prior to services at the church on Monday.
Rhiel Funeral Home & Cremation Services, Durand, is serving the family.
Condolences may be made online at www.rhielfuneralhome.com.