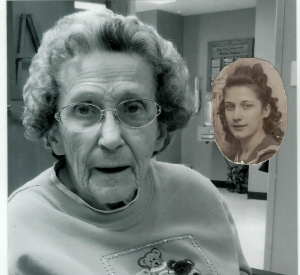 Pauline Rose Poeschel, age 94 of Durand, passed away on Sunday October 1st at the Plum City Care Center.
Pauline was born June 3, 1923 to August C. and Catherine P. (Bauer) Bauer. Pauline was born into a family of 11 children with 3 sisters and 7 brothers. The four girls were born first, with 7 brothers to follow. Polly attended Sacred Heart Lima School and then worked in Eau Claire as an aide at Sacred Heart Hospital. On weekends, Polly attended dances at Kohler's Dance Hall in Durand and soon took a fancy to a boy named Richard Poeschel who would one day ask for her hand in marriage. Pauline and Richard were married August 17, 1943 at Lima Sacred Heart Church. They farmed on the Poeschel home farm all of their married years. There were five children born to this marriage, Sharon Olson-Gurney (Frank), Marjorie Whitney (Larry), Richard Jr (Pat), Roger (Mary), and Larry.
Polly was a busy farm wife raising a family of five along with a coop full of chickens and a huge garden for canning. Polly helped with the farm work even unloading hay bales nearly the size of herself with some possibly outweighing her. Polly even in her later years always insisted on hosting all holidays and birthday dinners with a minimum of two different meats served. Richard passed away on December 14, 1978. Polly resided in two care centers for the last six years. Polly will always be remembered for her unwavering love of God and for always doing what was right.
Polly is survived by her five children, 14 grandchildren and 15 great grandchildren along with her brothers, Darrell (Cleo) Bauer, Glen (Laura) Bauer, and Gary Bauer, sisters-in-law, Irma Bauer, Darlene C. Bauer and Darlene Bauer. She is preceded in death by her parents, sisters, Sally Doverspike, Florence Brunner and Betty Parr, brothers, Kenneth, Ralph, Robert and Cletus Bauer, sister-in-law, Waltina Bauer and brothers-in-law, Kenneth Doverspike, Joe Brunner, and Ronald Parr.
A special thank you to the caregivers at Plum City Care Center for the loving and compassionate care.
Funeral Mass will be 10:00 AM Saturday, October 7, 2017 at Holy Rosary Catholic Church - Lima rural Durand. Rev. Paul Bosco will officiate. Burial will be in the church cemetery. Visitation will be held from 4:00 PM – 7:00 PM Friday at the Rhiel Funeral Home in Durand and one hour prior to services at the church on Saturday.
Rhiel Funeral Home & Cremation Services, Durand, is serving the family.