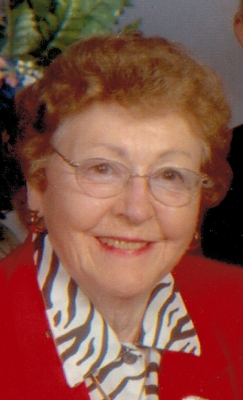 Lorraine M. Gilles age 91 of Menomonie, formerly of Elmwood, died Wednesday October 4, 2017 at the American Lutheran Home in Menomonie.
Lorraine was born to Lewis and Matilda (Shaw) McRoberts on September 29, 1926. She lived on a farm near Eau Galle and attended Eau Galle grade school. She moved to Durand with her family in 1942 and graduated from Durand High School in 1944. After graduation Lorraine attended the Technical School in Minneapolis and Omaha to become a teletypist. She went to Dayton, OH where she worked doing teletype at Wright Airfield Base. After the war, Lorraine returned to Durand and worked at the Bank of Durand as a teller. When the bank closed she went to Minneapolis and worked in the credit department at Rothchild Department Store.
On April 23, 1948 she married Earl Gilles in Plum City. They lived in St. Paul, MN while Earl finished his Pharmacy degree and Lorraine worked at Carngie Fuel Company as a secretary. They moved to Elmwood after purchasing the drugstore from Mr. Tanner. They learned to play bridge and Lorraine belonged to a ladies bridge club and also a couples bridge club. Many a delicious dessert was first tried on the family before serving the ladies.
Lorraine worked at Gilles Pharmacy after the children were older for many years. They sold the store in 1983 and retired. Lorraine and Earl spent five winters in the Rio Grande Valley in Texas and the following 21 winters in Estero, FL near Bonita Springs.
She loved to golf, bowl, play cards and especially fish. She grew up fishing on Lake Eau Galle and just kept fishing around the area, Northern Wisconsin and Canada. She enjoyed spending time with all her grandchildren and great grandchildren very much.
Lorraine was an active member of Sacred Heart Catholic Church in Elmwood singing in the church choir, she taught Catechism classes and belonged to the Altar and Rosary Society where she served as an officer. She was also a den leader for the Cub Scouts.
She loved to travel with her husband. They traveled to all 50 states, Canada, Mexico, Europe, China, Japan, Australia, New Zealand and the South Sea Islands. After the death of her husband, Earl, Lorraine moved to the White Pine Senior Apartments in Menomonie.
Lorraine is survived by her four children, Jerry (Kalle) of Kewaskum, Carol (James) Gibb of Menomonie, Rodney (Becky) of Elmwood, Jeffrey (Debbie) of Fall Creek. She is also survived by eight grandchildren and their spouses and great grandchildren.
She is preceded in death by her parents, husband Earl, brothers Lyle and Darrel McRoberts, a sister Alice Marie Petter.
In lieu of flowers memorials may be made to the Nature Conservancy or to the donor's choice.
Funeral services will be 10:30 AM Tuesday October 10, 2017 at St. Joseph Catholic Church with Rev. James Kurzinsky officiating. Burial will be in St. John's Cemetery in Plum City.
Visitation will be held from 9:00 AM until the time of the services at the church on Tuesday.