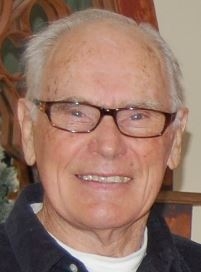 Eric Vikar Youngquist, 87, currently at Comforts of Home in Menomonie, passed away peacefully on August 27, 2015.

Born January 8, 1928, of Swedish immigrants Eric and Gunhild (Gustavson) Youngquist, Eric and his sisters Irene Ivory and Mae Martin grew up in Dearborn, Michigan. After serving two years in the Navy on submarine duty, he attended the University of Michigan, graduating with a BA in 1950. In 1947 he married Rita Parrish of Downer's Grove, Illinois.

Eric received a Master's Degree in Old Norse languages in 1951 from the University of Wisconsin and in English from Cornell University. He then studied at the University of Oslo on a Fulbright Scholarship and worked for 12 years with the US Foreign Service in Thailand and Finland. While still working, he attended law school at night and graduated first in his class with a law degree from George Washington University. He then went on to work in corporate law for more than 20 years before retiring to travel and begin a writing career.

A vigorous athlete and outdoorsman, Eric competed in the U.S. Masters swimming competitions in his later years. He also hiked the entire 2,150 mile Appalachian Trail while in his 70's, traveled to many countries, spoke numerous languages and authored several books.

Eric is survived by his five children: Eric (Anne) Youngquist of Palatine, Illinois, Tor (Barbara) Younguist of Chicago, Illinois, Chris (Cindy) Youngquist of Green Mountain Hills, Colorado, Sarah Youngquist, of Baldwin, Michigan, and Heather (Scott) Jerrie of Wheeler, Wisconsin. He is also survived by seven grandchildren, Eric, Max, Michael, Brendan and Kiri Youngquist and Hannah and Ben Jerrie, two great-grandchildren, Eric and Juliet Youngquist, and loving nieces and nephews. He is preceded in death by his parents, his beloved wife Rita and his sister Irene.

A private family service will be held at a later date. The family wishes to thank the members of First Congregational Church UCC for welcoming him to the community and for making his last years so rewarding, and to thank the staff of Comforts of Home for their loving, attentive care in his time there.

Eric's vigor, intelligence and integrity was an inspiration to his family and friends, and he will be deeply missed.