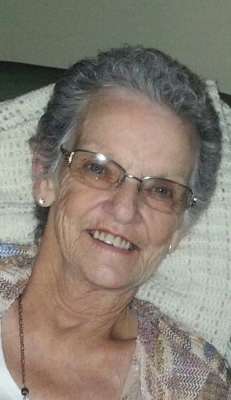 Kathleen M. Ayers age 72 of Menomonie, died Sunday November 6, 2016 at her home in the Township of Tainter, surrounded by her family.
Kathy was born July 26, 1944 in Chippewa Falls, WI. She was the daughter of William and Margaret (Candell) Kurtz, and grew up in Chippewa Falls and graduated from Chippewa Falls High School. Kathy married David B. Ayers on August 3, 1962 at Trinity United Methodist Church in Chippewa Falls. After marriage, they lived in the Chippewa Valley area where they raised their family and welcomed 21 foster children into their home. Kathy was a familiar face at the Menomonie Dairy Queen which she managed for over 15 years.
Kathy's passion was her extensive flower gardens, spending countless hours tending and nurturing her flowers. She enjoyed going camping and spending time at the cabin. Kathy and Dave enjoyed traveling, especially trips to Colorado, campground hosting in northern Wisconsin and wintering in Myrtle Beach, SC. She enjoyed the traditional Christmas cookie baking, with her mother, daughter and granddaughter. Kathy cherished family gatherings, enjoyed quilting, cross-stitching and adored her grandchildren and great grandchildren.
Kathy is survived by her four children; Jeff (Yvonne) of Ferndale, WA, Joanne (Bill) Gardner of Eau Claire, John (Donna) and Troy (Jean), both of Cable, 13 grandchildren; Shante`, Jessica (Matt), Evan, Kenneth, Nicole, Bonnie (Chris), Drew, Bryant, Andrea, Joey, and Theresa, four great grandchildren; Thalia, Melanie, Mason and Ty'cen, two brothers; Jim (Pat) Kurtz of Omro, Bill (Ardell) Kurtz of Chippewa Falls, nieces, nephews, other relatives and friends. She is preceded in death by her parents, her husband of 54 years; David and two sisters; Sandy Niehoff and Pat Schneider.
The family would like to give a special thanks for Dr. Sandeep Basu, the Menomonie Chemotherapy nurses and the St. Croix Hospice for the loving care they gave to Kathy. Also to our friends and neighbors for all of their love and support.
A Celebration of Life will be held at the Rhiel Funeral Home in Menomonie from 2:00PM-5:00PM on Saturday, November 12, 2016. A private burial will be at a later date at the Northern Wisconsin Veteran's Memorial Cemetery in Spooner.
"We come from the earth, we return to the earth and in between we garden."