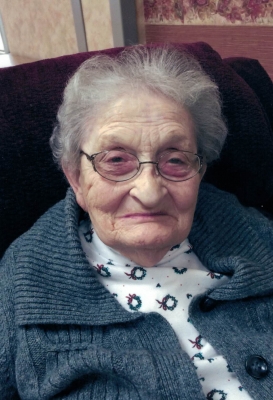 Helen C. Anders, age 86 of Durand, died Monday, January 9, 2017 at the Kinnic Health and Rehab Center in River Falls.
Helen was born on February 3, 1930 in Ruby. She was the daughter of Joseph and Clara (Wallerich) Anders. At a young age, Helen moved with her family to a farm in Exile, rural Plum City. Helen attended a country school and attended Plum City High School. After school, Helen moved to Durand and worked at the Oakview Care Center in Durand for many years. After retirement, Helen continued living Durand until her health forced her to move into the Oakview Care Center in 2012. Helen lived there until the care center closed in 2015 and moved to River Falls.
Helen enjoyed playing bingo, cards, going to the casino and fishing. She also liked going on bus trips around the country. Most of all, Helen loved to spend time with family and friends.
Helen is survived by her nephews and nieces; Larry Schultz and Roger (Beth Ann) Schultz, both of River Falls, Steven Schultz of Wauwatosa, Sandie (Tom) Gerhardt and Julie (Rick) Ellis, both of South Milwaukee, sisters-in-law; Pat Anders of South Milwaukee and Alice Anders of Ellsworth, many great nieces, nephews, other relatives and friends. She is preceded in death by her parents, four brothers; Charlie, Ray, Joe and Louie Anders and one sister; Isabelle "Izzy" Schultz.
Mass of Christian Burial will be 11:00 AM Friday, January 13, 2017 at St. John the Baptist Catholic Church in Plum City. Burial will be in the church cemetery. Visitation will be held from 10:00 AM until the time of services at the church on Friday.
Rhiel Funeral Home & Cremation Services, Durand, is serving the family.