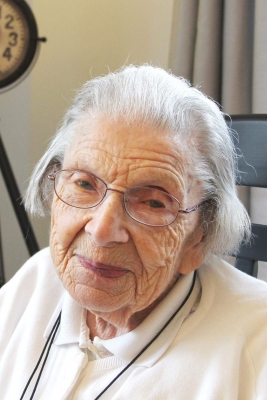 Katharine (Koller) Nelson, age 102 of Durand, died peacefully on Monday, February 13, 2017 at the Plum City Care Center in Durand with her family by her side.
Katharine was born on April 3, 1914 in Durand. She was the daughter of William and Laura (Kraft) Koller. Katharine grew up on a farm near Durand and attended Sacred Heart School in Lima. After school, Katharine worked at Sacred Heart Hospital in Eau Claire and also at St. Joseph's Hospital in St. Paul, MN. While at St. Joseph's Hospital, Katharine met and married Walter O. Nelson. They travelled to California during the war and returned to work the home farm in Durand. That is where they raised their family of six boys and one girl.
Katharine was a member of Holy Rosary's Altar Society and helped with many church functions. She made thousands of rosaries for the missions in her later years. Katharine enjoyed traveling with her husband in retirement. Walter died in 1990. She enjoyed her family, gardening, canning, crocheting, cooking, baking and playing cards.
Katharine is survived by her children; Ed of Chippewa Falls, Lois of Faribault, MN, Glen of Florence, AL, Herbert of Apple Valley, MN, Greg of Blaine, MN and Walter Jr. of Chicago, IL, 18 grandchildren, 40 great grandchildren, one great great grandchild, nieces, nephews, other relatives and friends. She is preceded in death by her parents, husband; Walter, one son; Dennis and one sister; Wilma.
Mass of Christian Burial will be 11:30 AM Tuesday, February 21, 2017 at Holy Rosary Catholic Church-Lima with Rev. James Kurzynski officiating. Burial will be in the church cemetery. Visitation will be from 10:30 AM until the time of services at the church on Tuesday.
Memorials may be made in Katharine's name to the American Cancer Society.
Rhiel Funeral Home & Cremation Services, Durand, is serving the family.