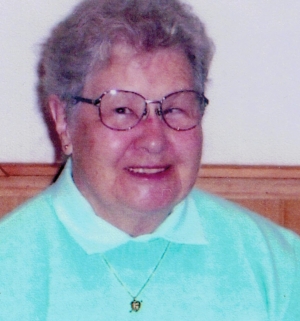 Eleanor R. Mattison age 93 of Menomonie, died Saturday February 11, 2017 at The Neighbors of Dunn County in Menomonie.
Eleanor was born May 13, 1923 in Elmwood. She was the daughter of James and Relia (Manor) Caturia and grew up in the Elmwood area until she was 19. Eleanor moved to Milwaukee for approximately 20 years. Eleanor moved to Menomonie to be closer to her parents. While living in Menomonie, Eleanor worked for 25 years as a waitress at the Kernel Restaurant, until it closed. She then volunteered serving senior meals at the Knapp Hall for approximately 15 years. For the past three months, Eleanor has been a resident of The Neighbors of Dunn County. Eleanor enjoyed her pets and spending time with family and friends.
Eleanor is survived by a son, Lawrence of Cylon, a daughter Jacki (Richard) Casper of Knapp, four granddaughters, Heidi Schultz, Adrienne Gilman, Aubrey Mattison and Jamie Mattison, nine great grandchildren, Cory (Kayla) Schultz, Chelsie Medes, Trevor Valdez, Thomas and Breeana Mittlestadt, Nikeisha and Rochelle Gilman, Zachary and Abegail Johnson, one great-great grandson, Emmett Schultz, other relatives and friends.
She is preceded in death by her parents, one grandson Troy Schultz, a sister Delores (Henry) Krimpelbein, and a nephew, William Krimpelbein.
Visitation will be held from 11:00 AM to 1:00 PM on Wednesday February 22, 2017 at Rhiel Funeral Home in Menomonie. Burial will be held in the spring in the Arkansaw Memorial Cemetery.