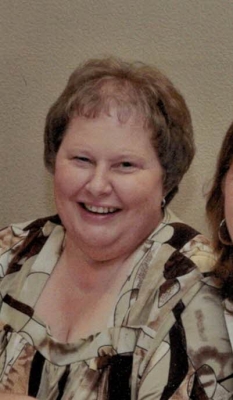 Julie A. Anibas, age 59 of Eau Galle, died Sunday, February 26, 2017 at Sacred Heart Hospital in Eau Claire after a courageous battle with cancer, with her family by her side.
Julie was born on February 14, 1958 in Durand. She was the daughter of Raymond and Lorraine (Wolfe) Brunner. Julie grew up in Arkansaw and graduated from Arkansaw High School in 1976. After high school, Julie worked in the Cities for several years. She enjoyed playing softball in her spare time until an injury forced her to retire. Julie worked several jobs before finding her passion in child care. Julie married John L. Anibas on November 8, 1980 at St. Joseph Catholic Church in Arkansaw. After marriage, they resided in Eau Galle where she farmed, provided day care and most recently Julie and John were the owners of the Eau Galle Saloon in Eau Galle. On June 3, 1990, Julie and John were gifted with their adopted son Cj.
Julie enjoyed working in her flower gardens, crafts, fishing, 4-wheeling and just being outdoors. Most of all Julie loved to spend time with her family.
Julie is survived by her husband; John, son; Cj (Carrie) of Menomonie, one granddaughter; Haislee, siblings; Pat Novak, Gary (Laurie) Brunner, Mary Duke, Brian (Theresa) Brunner, Bob Brunner and Polly (Pat) Beyerl, nieces, nephews, other relatives and friends. She is preceded in death by her parents, one sister in infancy; Maria Brunner, two brothers; Chuck and Tim Brunner, father and mother-in-law; Lorin and Sally Anibas and sister-in-law; Shelly Anibas.
Memorial Services will be 11:00 AM Friday, March 3, 2017 at St. Joseph Catholic Church in Menomonie with Rev. James Kurzynski officiating. Visitation will be held from 4-8 PM Thursday at the Rhiel Funeral Home in Durand and one hour prior to services at the church on Friday.
Rhiel Funeral Home & Cremation Services, Durand, is serving the family.