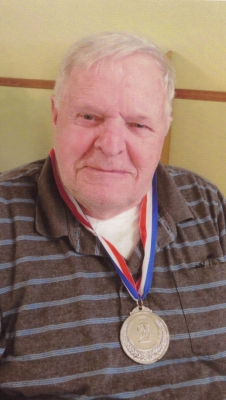 Ralph N. Pittman age 88 of Elmwood, died Thursday August 17, 2017 at the Plum City Care Center in Plum City.
Ralph was born September 8, 1928 at home on the Pittman family farm in Eau Galle. He was the son of Joseph and Mary (Pfeiffer) Pittman. Ralph grew up in Eau Galle and attended elementary school in Eau Galle. Ralph farmed with his brother Laurence and together they farmed on three combined farms in the Eau Galle Township until he retired.
Ralph loved to garden, and especially enjoyed growing flowers. He took several trips with his brother and sister, including going Hawaii. Ralph enjoyed playing cards, going to casinos and visiting and spending time with family, friends and neighbors.
Ralph is survived by his two sisters, Catherine Anderson of Waukesha and Beatrice (Eugene) Falkner of Menomonie, many nieces, nephews, great nieces & nephews, other relatives and friends
He is preceded in death by his parents, two brothers, Clarence and Laurence and a sister in infancy, Leona Pittman.
Funeral mass will be held at 11:00 AM Thursday August 24, 2017 at St. Henry's Catholic Church in Eau Galle with Rev. Jerry Hoeser officiating. Burial will be in the church cemetery.
Visitation will be held one hour prior to services at the church on Thursday.