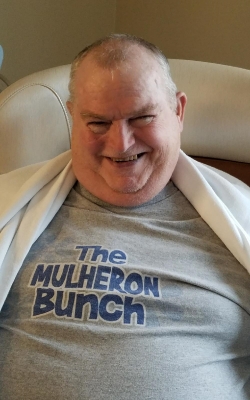 Jerome R. Mulheron, age 72 of Eau Claire, died unexpectedly Sunday, October 8, 2017 at Mayo Clinic Health Systems-Eau Claire.
Jerry was born on December 10, 1944 in Manitowoc, WI. He was the son of Ronald "Rusty" and Elizabeth "Betty" (Asher) Mulheron. At the age of six months, Jerry was stricken with Spinal Meningitis which left him deaf and unable to speak. At four years old he attended the school for the deaf in Eau Claire until he was 11. He then attended the Delevan School for the Deaf in Delevan, WI until he graduated in 1965. Jerry then took a job at Sacred Heart Hospital in Eau Claire as an assistant maintenance worker for two years, then employed at Krolls Carpet Service, installing carpet. Jerry then moved to Chetek where he worked for Master Craft Cabinet Co. until he retired. He then moved back to Eau Claire area, where he remained the rest of his life.
Jerry enjoyed spending time with children, especially his nieces and nephews, making them countless balloon characters. He was known for his wittiness and sense of humor, he enjoyed making people smile.
Jerry never let his deafness become an excuse or barrier for himself. He always found a way to get things done and express his thoughts and feelings. While never able to hear in his earthly life, for the first time Jerry now hears the laughter of children and voices of loved ones.
Jerry is survived by his siblings; Dorothy (John) Maule of River Falls, Millie (Jim) Komro of Indianapolis, IN, Pat "Francis" (Joyce) of Durand, Bernie (Jane) of Eau Claire, Betsy (Bill) Erickson of Brookfield, Bob (Rindy) of Ramsey, MN, Denny (Barb) of Mondovi, Mary (John) Mattick of Eau Claire, Carol (Mike) Bauer of Eau Clarie, Kathy (Dan) Bauer of Forest, VA, Sharon (Steve) Brantner of Eau Claire and Rick of Springfield, MO, sisters-in-law Carol Mulheron of Mishicot and Diane Mulheron of Barron. Jerry was also blessed with 52 nieces and nephews, 99 great nieces and nephews, and five great great nieces and nephews and a long-time personal family friend, caregiver and interpreter, Julie O'Brien; and his friends in the deaf community of Eau Claire.
Jerry is preceded in death by his parents, two brothers; Ron Mulheron Jr., Jim Mulheron, three nephews and one great niece.
The family would like to thank everyone who helped Jerry in his last years, especially the staff at Grace Woodlands and Community Care Partners Assisted Living.
Funeral Mass will be 11:00 AM Friday, October 13, 2017 at Immaculate Conception Catholic Church in Eau Claire with Rev. Don Meuret officiating. Visitation will be from 10:00 AM until the time of services Friday at the Church. A brief service for the deaf will be held at 9:30 AM by friend and Pastor William Knaack. A private burial will follow at a later date in the Holy Rosary Catholic Cemetery-Lima rural Durand.
In lieu of flowers, memorials may be made in Jerry's name to the family, to be given to the Eau Claire deaf community.
Rhiel Funeral Home & Cremation Services, Durand, is serving the family.