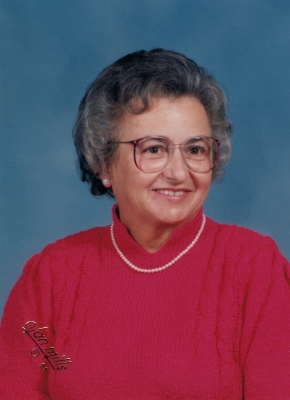 Marian L. Williamson age 89, passed away on Friday October 13th, 2017, at The Neighbors of Dunn County. Marian LaVerne Christianson, the first of nine children, was born on March 10th, 1928 in Bruce Wisconsin to Elmer and Mabel (Thaler) Christianson. She was baptized and confirmed at Nathaniel Lutheran Church in Bruce. Marian enjoyed growing up on the farm and often talked about helping her dad with chores and milking cows.
Her family moved to Menomonie in 1944. She graduated high school in 1946 and received her teaching certificate from Dunn County Normal School in 1948. She taught all grades at the Birthman School in the town of Lucas, and then at the Wheeler school.
She married Eldon Williamson on August 22nd, 1950, in Stillwater MN. After Eldon's return from the Korean War they made their home in Eau Claire, where Marian became a stay at home mom, and made sure the cookie jar was never empty! We all looked forward to her Saturday baking days, when she would make her delicious cinnamon rolls, homemade bread, and pies. She loved to garden and did a lot of canning of fruits and vegetables, and looked forward to berry picking season and making homemade jam. When her children got older she returned to teaching, as a substitute teacher in the Eau Claire and Chippewa Falls area schools.
In 1973 they returned to the Menomonie area. Marian was a talented seamstress and later worked with her daughter Christie when she opened Christie's Bridal Shop in Menomonie. After retirement she remained active at St. Paul's Lutheran Church, and enjoyed being part of the Dorcas sewing group.
Marian is survived by her children, Christie (Phil) Becker, Medina, OH, Greg (Sherri) Williamson of Hudson, Cindy Williamson, and Tim (Shar) Williamson, both of Menomonie; 11 grandchildren, Anneliesa (Brian) Henslee, Allyson (Chris) Kagarise, Trevis (Kasja), Christopher, Ryan, Jacob (Destiny Weiss) Williamson, Jesse (Jen) Singerhouse, Jessica Towns, Nick, Angie, and Sam Williamson; 14 great grandchildren, Madison, Harrison, Benjamin, Blake, Owen, Harper, Fiona, Henry, Brooke, Aiden, Andrew, Kittrick, Kinsey, and Reagan; her sister, Audrey Bracher, and brothers, Mike (Mary), Lyle (Helen), Cal (Bonnie), Vic (Sandy) Christianson, Sisters-in-law, Rosemary Christianson, Ramona Reidt, and Janet Williamson, and many nieces and nephews.
She is preceded in death by her husband Eldon, her parents, Elmer and Mabel, her sister Carol Tischman, brothers, Allen and Gilbert Christianson, and cousins, foster brothers Jim, Carl, and Eddie Hoff. Brothers-in-law and sisters-in-law, Dorothy and Ray Thompson, Marshall and Dorothy Williamson, John and Mary Sterry, John Williamson, and Galen Reidt.
A special thanks to all the staff at The Neighbors of Dunn County, Red Cedar Lodge, for the care given to Marian these past 18 months and the special comfort given to her in her final days, thank you!
Funeral services will be held at 10:30 AM Saturday October 21, 2017 at St. Paul's Evangelical Lutheran Church in Menomonie with Rev. Brett Voigt officiating. Burial will be in Riverview Cemetery in Downsville.
Visitation will be held from 4:00 to 7:00 PM Friday at Rhiel Funeral Home in Menomonie and one hour prior to services at the church on Saturday.