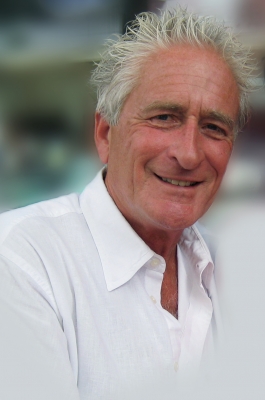 M. George Ibach, was a man with an abundance of qualities; fiercely loyal, loving and joyous. He was admired for his ability to make each person he encountered feel special - everyone LOVED GEORGE! He passed away peacefully at his home surrounded by his family in Elmwood, WI at the age of 67 from leukemia. Born in Rochester, MN, December 19th, 1949 to Marcella (Nolan) and Kenneth Ibach.
George and his wife of 34 years, Shelly, adored one another and shared the joys of life. From hunting, fishing, hot air ballooning and living in their spiritual valley outside of Elmwood to their endless love for one another.
George was unconventional and he achieved his dreams. He was a highly respected hot air balloonist for over 40 years and was instrumental in expanding the sport through teaching, mentoring and certifying new pilots. George was the founder of Ibach Balloon Company, Mayor's Cup Invitational Hot Air Balloon Race and the Minnesota Balloon Pilot's Association. He traveled the country flying commercial balloons and was a certified gas balloonist. George also proudly owned and operated his Spring-Green Lawn Care Franchises for over 25 years. After selling his company in 2005 and flying his balloon many times over the Napa Valley, George decided to start a vineyard at their farm in Wisconsin. George became a passionate viticulturist naming his vineyard Black Squirrel.
He loved life and lived it passionately and unapologetically. His family and friends will miss his laughter, enthusiasm and generous heart and soul.
George is survived by his wife Shelly, his son Dylan Davis, three sisters; Sharon Ammerman, Mary Kay (Ed) Tutunjian and Janet (Gert) Schlenker, mother-in law; Virginia (DelVane) Roeder, sister-in-law; Vicky Wade, brother-in-law; Jay (Linda) Radue niece; Nicky (Tyler) nephews; Bill (Letty), Brad, Chad, Luke (Margaret) and Corey (Allison), three great nieces; Illiana, Gretchen and Presley, two great nephews; Easton and Godson Deegan, other relatives, friends and his many furry and feathered friends who live on Triple Coulee Farm.
He was preceded in death by his parents, one sister in infancy, father-in-law; Harlan Radue, brothers-in-law; Bill Wade and Bill Ammerman and nephew; Matthew Schlenker.
George will be remembered and placed to rest in Elmwood, WI on Thursday, October 26, 2017. Funeral Mass will be 11:00 AM at Sacred Heart Catholic Church in Elmwood with Rev. James Kurzynski officiating. Burial will be in the Boot Hill Cemetery (church cemetery). Visitation will be from 4:00 PM – 7:00 PM Wednesday at the Elmwood Auditorium in Elmwood.
Rhiel Funeral Home & Cremation Services, Elmwood, is serving the family.