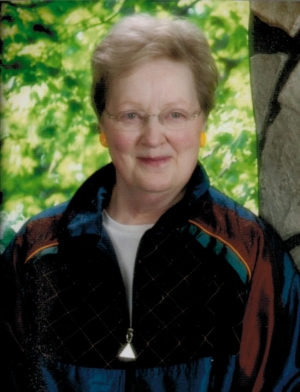 Joyce Marie (Glossop) Vaughan of Colfax, Wisconsin passed away at the age of 83 on Tuesday October 24, 2017. Her husband of nearly 65 years, Jack D. Vaughan, was by her side as she ended her fight with an aggressive brain cancer.
Joyce was born in Lansing, Michigan on Easter Sunday, April 1, 1934, to Howard E. Glossop and Leona E. (Lynch) Glossop, the first of five children and named for the joy of the season that she loved most. She grew up in Lansing helping raise four younger brothers while her parents worked through the Great Depression and World War II. She conducted games and activities for her siblings and numerous cousins at family gatherings. One of her favorites was playing school. She learned piano and continued to play until late in life, a centerpiece of her musical family.
Joyce attended St. Mary's Cathedral High School and The Class of 1952 Homecoming Queen married her high school sweetheart Jack the following year at St. Casimir's Catholic Church in Lansing while he was on leave from active duty with the U.S. Marine Corps in Korea. A year later, Joyce gave birth to their first daughter, Connie A. Vaughan (Quilling). Jack returned from the service and enrolled in the Packaging School at Michigan State University. They moved to Glenview, Illinois where Jack started his professional career at Kraft Foods and Joyce raised now two daughters with the addition of Michelle M. Vaughan (Rowland).
Their family moved to Tainter Lake in 1964 and Joyce later enrolled at UW-Stout in Early Childhood Education. Her life-long devotion to children blossomed into a 30-year avocation as a school teacher in the Menomonie School District. Shortly before earning her bachelor's degree she welcomed the family's third child, Brian D. Vaughan.
She took great pride in working with young children and sparking their imagination. She played in the gym during Phys. Ed and told stories to groups of rapt students in the library. At home, she taught values of responsibility, charity, compassion and empathy. In spreading her love of children, gardening, sewing and a variety of interests, she formed friendships that leant support and comradery. At 60 she won her first battle with cancer with family and friends by her side. With indefatigable optimism and faith, she taught for two decades more. Her gift – to see the world through the eyes of a child – was decorated each year with loving notes and drawings from her students.
Joyce enjoyed travel to Europe and throughout the United States, especially when visiting family. She was a loved and respected wife, mother, grandmother, sister, aunt, teacher, gardener, birder, quilter, visitor, and friend.
Joyce is survived by her husband, their three children and spouses, six grandchildren, her brothers Patrick Glossop and Russell Glossop, and several nieces and nephews. She is preceded in death by her parents as well as her brothers, Howard Glossop and Michael Glossop.
Please direct donations in lieu of flowers to the St. Jude Children's Research Hospital to end childhood cancer.
Funeral mass will be held at St. Joseph's Catholic Church in Menomonie at 11:00am on Tuesday October 31st. Visitation will be held at the church an hour prior.