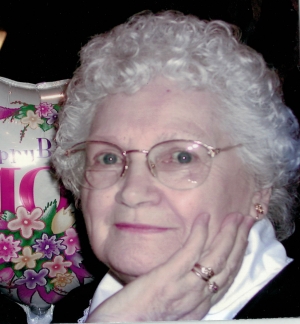 Eleanor A. Blattner, age 93 of Eau Claire, formerly of Rock Falls, passed away peacefully on Sunday, November 12, 2017 at her home in Eau Claire.
Eleanor was born on January 29, 1924 in Bellechester, MN. She was the daughter of Anton and Pearl (Arendt) Hart. Her family moved to the Lake City, MN area where she attended school. Later Eleanor married Floyd Blattner on January 28, 1956 in Lake City. They moved to Cornell in 1962 and then to Rock Falls in 1964, where they raised their family. Eleanor has been a member of St. Joseph Catholic Church in Rock Falls for over 50 years. In 1996, Eleanor moved to Eau Claire to be closer to family, where she remained the rest of her life.
Eleanor enjoyed embroidering and playing cards. Most of all, Eleanor loved spending time visiting with family and friends.
Eleanor is survived by her children; Julie Jacobson of Altoona, Craig (Becki) of Cleghorn, three grandchildren; Peter (Chris) Rath, Pam (Jeff) Vollhaber and Andrew (Special Friend, Makayla Brixen) Blattner, four great grandchildren; Michael, Ashley, Mitchell and Radaline, two great great grandchildren; Henry and Daniel, one brother; Martin "Peter" (Rose) Hart of Lake City, MN, son-in-law; Jake Jacobson of Eau Claire, one brother-in-law; Robert Tri Sr. of Zumbrota, MN, nieces, nephews, other relatives and friends. She is preceded in death by her parents, husband; Floyd, one son; Jerry Blattner, one daughter; Pat Rath and two sisters; Laverna Tri and Irene Tri.
Funeral Mass will be 11:00 AM Thursday, November 16, 2017 at St. Joseph Catholic Church in Rock Falls with Rev. Joseph C. Nakwah officiating. Burial will be church cemetery. Visitation will be from 10:00 AM until the time of services at the church on Thursday.
In lieu of flowers, memorials may be made in Eleanor's name to St. Francis Food Pantry, 1221 Truax Blvd, Eau Claire, WI 54703.
Rhiel Funeral Home & Cremation Services, Durand, is serving the family.