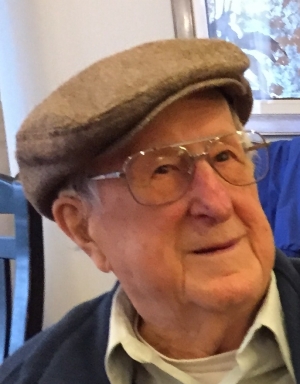 Lyle J. Gilles, age 99 of Plum City, died Sunday, November 26, 2017 at the Plum City Care Center in Plum City with his family by his side.
Lyle was born on November 4, 1918 on the family farm in the Town of Union, rural Plum City. He was the son of Matt and Lena (Krings) Gilles. Lyle grew up in Plum City and graduated from Plum City High School. After high school, Lyle enlisted into the U.S. Army Air Corps and served in the Pacific Theater in WWII. He served for four years and was Honorably Discharged. Lyle married Betty M. Stewart on April 5, 1948 at St. John the Baptist Catholic Church in Plum City. In 1942, Lyle went into partnership with Henry Kannel and later Bob Black at the Hardware Store in Plum City and did heating and plumbing. He continued in the business until retiring in 1982. Lyle and Betty continued to live in Plum City the rest of Lyle's life.
Lyle was a member of the Plum City Frank Gilles American Legion Post #365, a member of St. John Holy Name Society, a member of the Wisconsin Retail Hardware Association and he sat on the board that brought the bank to Plum City. Lyle sat on the board of directors for both the hospital and the nursing home in Plum City and was instrumental in building the new nursing home. He and Betty enjoyed traveling, spending many winters in Arizona, going fishing and taking family picnics.
Lyle is survived by his wife of 69 years, Betty, six children; Dan (Kay) of Plum City, Linda (Larry) Chilson of Plum City, Lee of Downsville, Kay (Dan) Erickson of Prescott, Ann (Jeff) Bechel of Plum City and Amy (Dave) Comee of Savage, MN, daughters-in-law; Peggy Gilles of Plum City and Renee Gilles of Prescott, 16 grandchildren, 18 great grandchildren, nieces, nephews, other relatives and friends. He is preceded in death by his parents, one son; Patrick Gilles, one daughter; Susan in infancy, one grandson; Michael Erickson, six brothers and two sisters.
Funeral Mass will be 11:00 AM Thursday, November 30, 2017 at St. John the Baptist Catholic Church in Plum City with Rev. Joseph Okine-Quartey officiating. Burial will be in the church cemetery with Military Honors provided by the Plum City American Legion Frank Gilles Post #365. Visitation will be from 9:00 AM until the time of services at the church on Thursday.
In Lieu of flowers, memorials may be made in Lyle's name to Plum City American Legion, St. John the Baptist Church or the Plum City High School Scholarship Fund.