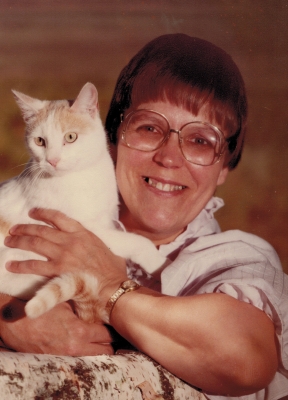 Sharon M. Edmonds age 68 of Menomonie, died Monday November 27, 2017 at her home in Menomonie.
Sharon was born September 19, 1949 in Menomonie. She was the daughter of Walter & Violet (Stoll) Edmonds. Sharon grew up on the farm near Boyceville until moving into Boyceville in 1990. Sharon worked at various nursing homes in Rice Lake, for nine years, Woodville for 15 years, and in Glenwood City for a year. She also worked at Taco Johns in Menomonie for several years. Sharon moved to Menomonie in 2000 where she has remained the rest of her life.
Sharon enjoyed doing pencil coloring, coloring by numbers, shopping, visiting with friends she would get to know at the apartment complexes she lived at and was very passionate about her cat that she loved and had to give up upon moving to her most recent apartment..
Sharon is survived by two sisters, Nancy (Eugene) Ballard of Puyallup, WA and Betty (Ernest) Frost of Benbrook, TX, six nieces and nephews, three great nieces and nephews and other relatives and friends. She is preceded in death by her parents and one niece.
Funeral services will be 11:00 AM Saturday December 2, 2017 at the Rhiel Funeral Home in Menomonie with Rev. Steve Crites officiating. Burial will be in the Sherman Cemetery, Township of Sherman, Dunn County.
Visitation will be held one hour prior to services at Rhiel Funeral Home with light refreshments on Saturday.