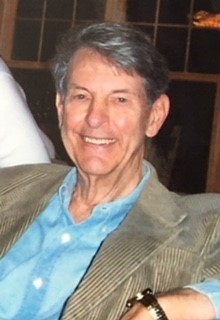 Dr. Frank Springer passed away on December 22, 2017 in Madison, Wisconsin after a short illness. He was 94.
Frank is survived by his wife, Dawn (Holden); his children, Susan Keith (Stanley), Mary Springer, Jenny
Springer- Weber (Curt) and Frank (Chip) Springer III (Cyndee Gannon); his step-children, Bernard,
Kathryn and Ian; his grandchildren, Reece, Kristy, Jennie and Erinn; his great-grandchildren, Collin, Ashtyn, Brecken, Greyson, Halo, Asim and Adalet; his nephews, nieces, great nephews and nieces; many cousins and close friends. He is predeceased by his ex-wife, Helen Rosemary; his sister, Dorothy (AD) Estes; his brother, Dr. Joseph Springer; and his dear friend, Betty Mattson.
Frank was born in Elmwood, WI to Vera and Frank Springer and was instantly and forever adored by his brother and sister. The three would remain best friends throughout their lives. Frank always wanted to be a doctor. His grade school teachers would get used to him drawing the bowels in class, but his mother never got used to him conducting chemistry experiments in the basement (and singeing his hair in explosions).
Doc Frank (as he was known) attended medical school at the University of WI-Madison, where he would meet his first love, future wife, and mother to his four children, Helen. He practiced medicine for 67 years. His first years of practice were as a medical doctor for the Navy during WWII in China and the West Pacific. He was extremely proud to serve his country and had many memorable adventures, too.
After leaving the Navy, he took a trip to Elmwood where Dr. Breed was the practicing doctor. At Dr. Breed's request, he came in for a day to take over as he was sick. Dr. Breed didn't return the next day and Doc Frank did, starting his practice in Elmwood. Eventually, he joined the Red Cedar Clinic and then Mayo Health Care systems where he worked alongside his two daughters, Mary and Jenny. He became a well renowned doctor for delivering babies, making house calls in blizzards, treating 50 or more patients a day, getting paid with pies, bags of tomatoes and kittens or foals. He was known by his peers as a brilliant physician and had a gift for diagnosing and treating medical issues that were unknowns. Frank won a number of awards bestowed by the public and his medical colleagues. He finalized his work at the Dunn County Health Care Center after 67 years of very personally gratifying work in the community he loved.
After semi-retiring in 2001, Frank would have more time to spend with his family and friends. Frank would also get married to his wife, Dawn, in the fall of 2007. They moved to Madison shortly after. Frank would make weekly trips back home to see patients and visit family and friends.
Frank took joy in adventure, travel and the simple things in life. He would often catch a flight to New York
City for a broadway musical. He enjoyed yearly ventures to attend a gem and mineral show in Tucson, Arizona with Dorothy and Betty. Cannon Beach, Oregon was a memorable destination for Frank and family alike. Frank would spend summers canoeing the Brule River in northern Wisconsin and would brag about how he could navigate the river, not only blindfolded, but also standing up.
Medicine, stethoscopes and hobbies aside, Frank deeply valued his family and friends and was a particular favorite of his grandchildren, nieces and nephews. Whether it was catching sporting events, attending musical and fine arts performances, or just discussing important things about life, Frank was always delighted to be around them and share their interests. His spirit will grow on through them.
Please join his children and grandchildren for a gathering of family and friends to celebrate Frank's life at Welcome Home Assisted Living in Elmwood on Friday, December 29, from 4-8pm.