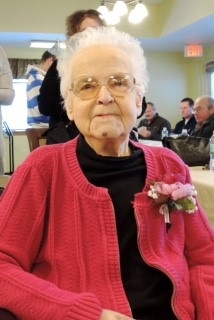 Rose M. "Tootie" Unser, age 89 of Plum City, died Tuesday, January 9, 2018 at the Plum City Care Center in Plum City with her family by her side.
Tootie was born on December 31, 1928 in Plum City. She was the daughter of Nick and Rose (Hoffman) Klein. Tootie grew up in the Plum City area and attended Clipperdale Country School. Tootie married Charles Unser on May 8, 1952 at St. John the Baptist Catholic Church in Plum City. After marriage they farmed and raised their family in rural Plum City. In 1985, they retired farming and moved into the Village of Plum City, where she remained the rest of her life.
Tootie enjoyed playing cards, cooking and raising her family.
Tootie is survived by her children; Dan (Pat) of Ellsworth, Tom (Kathy), Steve, Bob (Amy), Pete (Jackie), all of Plum City, Sharry (Nolan) Andre, Lois (Bill) Fedie, Brenda (Bill) Traun, all of Durand, Diane (Henry) Bignell of Amery, 22 grandchildren, 24 great grandchildren, one sister-in-law; Mary Klein of St. Paul, MN, nieces, nephews, other relatives and friends. She is preceded in death by her parents, husband; Charles, six brothers; Robert, William, Nick, Bernard, Edward and Raymond Klein, three sisters; Marge Klein, Pauline Hartung, and Flossy Delwo.
Memorial Services will be 1:00 PM Monday, January 15, 2018 at St. John the Baptist Catholic Church in Plum City. Rev. Joseph Okine-Quarty will officiate. Burial will be in the church cemetery. Visitation will be Sunday 4:00PM - 7:00PM at the Rhiel Funeral Home in Durand and one hour prior to services at the church on Monday.
Rhiel Funeral Home & Cremation Services, Durand, is serving the family.