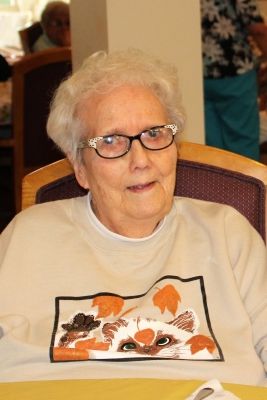 Nancy Lou Kehrberg
Nancy Kehrberg age 85 of Menomonie, passed away on Friday December 15, 2017 at the Neighbors of Dunn County in Menomonie with her children by her side.
Nancy was born August 29, 1932 in Minneapolis, MN. She was the only child of Axel and Hilda (Anderson) Johnson. Nancy spent her early childhood growing up on a farm near Backus Minnesota. When she entered Junior High, the family moved to St. Louis Park Minnesota. She graduated from St. Louis Park High in 1950. After attending the University of Minnesota, she worked for an insurance company and a doctor before marrying R. Frank Kehrberg in June of 1958. Nancy and Frank spent the first year of their marriage living in Chatsworth California, but it wasn't long before they moved back to Minnesota. They settled in St. Paul and started a family. In 1967 they moved the family to Menomonie. Nancy was active raising her 3 kids, volunteering at their schools, and volunteering with Boy Scouts and Girl Scouts. After her children were older Nancy became a tour guide at the Wilson Place Museum. She very much enjoyed sharing her knowledge of the museum with visitors, especially the kids. Nancy was also a member of the Menomonie Women's Club. She served in many positions within the General Federation of Women's Clubs; including Club President, District President and finally becoming President of the Wisconsin Federation of Women's Clubs in 2000.
Nancy enjoyed reading, travel and sewing. She also enjoyed the company of cats. From Boots to Abagail she was almost never without a cat in her life.
Nancy is survived by her three children; Richard (Pamala) of Ames, IA, Fredrick (Carrie) of Cannon Falls, MN, and Susan (Steven) of Millbrae, CA; four grandchildren, Richard, Alexandria, Kristopher and Kathryn and other relatives and friends. She is preceded in death by her parents, and her husband; Frank.
Memorial services will be held at 1:00 PM Friday February 16, 2018 at First Congregational United Church of Christ in Menomonie with Rev. Kathleen Remund officiating.
Visitation will be held from 11:00 AM to the time of the services at the church on Friday February 16, 2018.