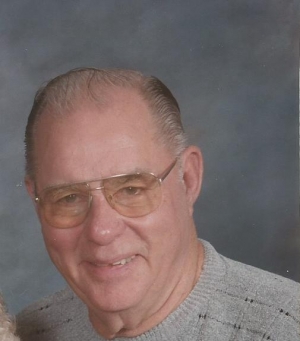 John Andrew Gullickson Sr, 87, (AKA George) of Elk Mound, town of Wheaton passed away at home with his loving family by his side on January 29th, 2018.
He was born August 11, 1930 in New Auburn, WI, the eldest child of Andrew and Clara (Satter) Gullickson. At the age of 17, John joined the Navy. While stationed in Boston, MA, he met the love of his life. He married Grace V. Philbrook on August 12th, 1950 at St. Clement's Catholic Church in Somerville, MA.
After leaving the Navy, John worked for the Boston Railroad. After being laid off he moved his family to Wilmington, CA, where he became a milkman. In 1964, they moved to Elk Mound, WI, where again, he was a milkman. Due to an injury to his leg, he changed jobs and worked for Armour's Meat Packaging in Eau Claire. After the closing of Armour's, John became a Meat Inspector for the State of Wisconsin, the job he held until retirement in 1994.
John was a member of the Mason's in Eau Claire, WI. He loved fishing, the Packers, gardening, making sausage and most of all spending time with family and friends. He was a loving husband, father, brother, uncle, friend, grandfather, and great grandfather.
He is survived by one son, David (Barb) of Cameron, and one daughter, Nancy (Dave Leohner) Guillickson of Elmwood; two brothers, Armond "Bubs" of Colfax, and Malcom of Elk Mound; five sisters Nancy Fouts of MI, Lonna (Dick) Archambault of Maple Grove, MN, Susan Allen of Chippewa Falls, Roxanne (Stan) Sword of Colfax and Julianna (Mike) Brindle of Elk Mound; seven grandchildren and 14 great grandchildren; many loving nieces and nephews, and his best buddy and brother-in-law, Ernest Philbrook of Elk Mound.
He is preceded in death by his wife, Grace; two sons, John Jr. "Jack", and James; three sisters, Marcella Gullickson, Marion (Marv) Freeman, and Louise (James) Raboin.
A huge thank you to the Mayo Clinic Hospice Team. This group of people showed so much love and concern. They were phenomenal.
Celebration of John's life will take place from 11:00 AM to 2:00 PM Saturday February 3, 2018 with a prayer service at 1:30PM at the Rhiel Funeral Home in Menomonie. Burial will follow immediately after the services at St. Joseph's Catholic Cemetery in Elk Mound.
Because of John's love for the Green Bay Packers, the family invites you to wear your favorite Packer's attire to the services in honor of John.