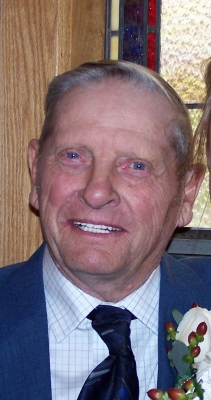 Archie Louis Seyffer, age 87, passed away peacefully at home on Thursday evening, February 15, 2018 with family by his side.
Archie was born August 10, 1930 on the family farm on Big Hill north of Pepin, WI, one of three children born to Louis and Florence (Jahnke) Seyffer. He attended both Big Hill Country School and Pepin High School graduating in 1948. Archie served in the U.S. Army during the Korean Conflict, his focus was switchboard communication and was honorably discharged in 1953. The day Archie flew home from being discharged, he met Maxine Schoeder in St. Paul, MN. They were wed on June 26, 1954 in Pepin WI. Together they bought a dairy farm on Big Hill and had a successful career that was known for their registered milking herd.
Archie was a humble hardworking frugal man who selflessly put his family and others first. He was a bit of a mastermind when it came to building something out of nothing. Archie was known for his ability to fix just about anything from farm machinery to household appliances. Other farmers in the area would ask for his welding skills from time to time. He built trailers, posthole diggers, lift baskets, metal presses and the list goes on. He lit up and you could almost see the gears turning when someone came to him with a new project.
Together Archie and Maxine raised five children teaching all of them strong work ethic and the value of a dollar. They built a retirement home in rural Arkansaw, WI. When they moved into semi-retirement, he continued to go to the farm every day and helped his son Dave until the sale of the farm. Together Archie and Maxine traveled to many states taking in the sights while visiting family and friends for several years after retiring.
The struggle of lost mobility from multiple strokes causing him much frustration has now been lifted.
Archie is survived by his wife, Maxine, children, Debbie (Boyd) Belmore of Rio Rancho NM. Rick (Kelly), Kevin (Pam) both of Red Wing MN. Dave (Robin) of Downsville, WI., and Chris (Brian) Richardson of Durand, WI. Archie is also survived by seven grandchildren and nine great grandchildren. Sister Laverle Hince of Pepin, WI. Several nieces and nephews, other family and friends.
Archie was preceded in death by his parents, Louis and Florence, brother, Vaughn, brother-in-law, Vernon Hince.
Funeral Services will be 11:00 AM Wednesday, February 21, 2018 at Rhiel Funeral Home in Durand. Visitation will be from 10:00 AM until the time of services at the funeral home on Wednesday. Burial will be in the Porcupine Cemetery in the Town of Frankfurt, rural Arkansaw with Military Honors provided by the Plum City American Legion Post #365 of Plum City.
Rhiel Funeral Home & Cremation Services, Durand, is serving the family.