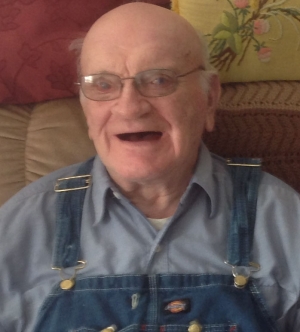 Maurice John Forster, aka "Boss", age 86, of Menomonie, WI, formerly of Durand, WI, died Sunday February 25, 2018, after a brief illness, at Mayo Clinic –Red Cedar Hospital in Menomonie.
Maurice was born December 30, 1931, at home in the Township of Lima, rural Durand. He was the son of William L. and Alvina (Bauer) Forster. Maurice graduated from Sacred Heart High School – Lima in 1949. He joined his father on the family farm, raising soy beans, oats, corn, hay, hogs and dairy cattle. He married Carol M. Krings in 1959. They later divorced. Maurice served on the Board of Directors of the Durand-Nelson Shipping Association and also served on the Pepin County Area Soil Conservation Board. For a time after his retirement from farming, he enjoyed driving for local Amish families.
Maurice is survived by three children: Ellen (Michael Loy) Forster of Winchester, VA, Amy (Craig) Layne of Norwich, VT and Randal J. Forster of Austin, MN. He is also survived by three sisters: Blanche Caton of Eau Claire, WI, Mary Regina Forster of Mt. Shasta, CA, and Clarissa (Don) Ramsey of Gardners, PA; two brothers, Roger (Bev) Forster of Highlands Ranch, CO and David (Mary Jean) Forster of Elk River, MN; numerous nieces, nephews and cousins.
He is preceded in death by his parents; one brother, Wm. Daniel Forster, one bother-in-law, Robert Caton, and an infant sister, Lillian.
Maurice will be remembered for his love of old-time music. He was a member of the Lima Polka Choir for many years, singing at local churches and town festivals.
The family would like to thank the staff of the Special Care Unit at Mayo Clinic and Care Partners Assisted Living of Menomonie, for the excellent care given to Maurice over the years.
Funeral services will be 11:30 am Wednesday, March 7, 2018 at Holy Rosary Catholic Church – Lima, rural Durand, with Rev. Paul Bosco officiating. Burial will be immediately following in the church cemetery.
Visitation will be held from 4:00 to 7:00 pm Tuesday, March 6, at the Rhiel Funeral Home in Durand and one hour prior to services at the church on Wednesday.
Memorial donations may be made in Maurice's name for Holy Rosary Parish at Tri-Parishes, P.O. Box 188, Durand, WI 54736.
Rhiel Funeral Home & Cremation Services, Durand, is serving the family.