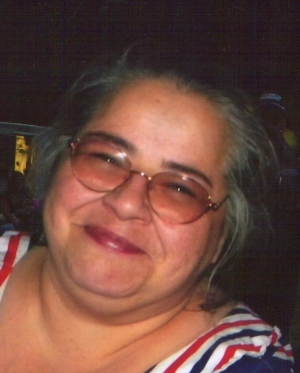 Jayne M. Halama passed away peacefully at her home in Menomonie on Friday, March 2, 2018. Jayne was born January 27, 1964. The fourth child of Bernard "Moose" Halama and Rozanne (Douville) Halama, she grew up and lived in Menomonie. She graduated from Menomonie High School in 1982. After high school she managed the Northside Phillips 66 gas station and then became part-owner/manager of an in-house group home called, Moose's Place, for cognitively disabled adults.
Jayne was proud of her family and will always be remembered for her fun-loving personality. She was a favorite auntie to all the nieces and nephews; always spoiling them with fabulous treasure hunts and trinkets at Easter, Christmas, birthdays and whenever she wanted. She was a very creative person, known for handmade treasures such as Ukrainian Eggs, calligraphy, sketch drawing, various artistic touches and crocheted ornaments and gifts.
Jayne was a wonderful cook and baker who always made time for others. She was a self-taught cake decorator who took on the challenge of decorating several wedding cakes for family and friends. Jayne was an active member of St. Joseph Parish and PCCW; using her interest in cooking to prepare the church's second edition of its cookbook, Twice Blessed.
Jayne is survived by her mother, Rozanne; four brothers Rick (Jeanette) of Pittsville, Bruce (special friend- Linda) of Eau Claire, Bryan and David (Sue), both of Menomonie; five sisters Joyce Halama of Gurney, IL, Jill (Dave) Grimme of Bloomington, MN, Jessica Christenson of Woodbury, MN, Julie Halama (special friend, Kevin) and Jen (Tim) Engel, both of Menomonie; several nieces and nephews and great-nieces and nephews who will all miss her happy smile and laughter.
Along with her paternal and maternal grandparents, Stanley and Julia (Smeija) Halama of Independence and Joseph and Alice (Darsow) Douville of Somerset, she was preceded in death by her father, Bernard (Moose) Halama.
Memorial services will be held 10:30 AM Saturday March 17 at St. Joseph Catholic Church in Menomonie with Fr. James Kurzynski officiating. Burial will be in the church cemetery. Visitation will be held from 4:00 to 7:00 PM Friday at Rhiel Funeral Home in Menomonie and one hour prior to services at the church on Saturday.
Flowers may be sent to the funeral home or in lieu of flowers, donations can be made to St. Joseph Parish for the purchase of bells for the church Bell Choir and School Playground Improvements.