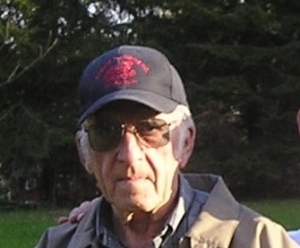 Andrew L. Rogers, age 88 of Menomonie, died Friday, March 9, 2018 at the Neighbors of Dunn County Care Center in Menomonie.
Andy was born on November 23, 1929 in Menomonie. He was the son of LeRoy and Margaret (Simmon) Rogers. Andy grew up in the Menomonie area and went to work on a farm at young age. In 1953 Andy joined the U.S. Army and served in England before being Honorably Discharged. Andy married Nancy Ann Lassard on July 16, 1960 at St. James Catholic Church in Eau Claire and together they had four children. After marriage Andy and Nancy lived in Menomonie where Andy drove milk truck and school bus. In 1962 they bought the family farm in the Weston Township. Later they moved to a farm in the Town of Menomonie, where Andy continued farming until retiring. In retirement, Andy enjoyed spending time with his family and friends, especially his grandchildren.
Andy lost his wife Nancy, in 1976 after a long hard battle with cancer and became an only parent of 4 young free spirited children. However, he showed what a great man he was by not just raising four children but by modeling a superior work ethic, family values and morals through patience, unspoken authority and love. He allowed each kid to grow and think independently. As his children we always knew what we should do and what was the right choice, we also knew he would always be there to lift us up even when we made poor choices. Andy made raising his children a priority over building a new life for himself. The sacrifice he made for his kids shows his dedication and love of family.
Andy is survived by his children; Duane (Arla) of Hastings, MN, Mike (Teresa) of Menomonie, Kathy (Kevin) Johnson of Burnsville, MN and Steve (Missy) of Amery, 14 grandchildren, 8 great grandchildren, seven siblings; Ralph (Bev), Buck (Sally), Viola Traxler, Edith (Dallas) Pankowski, Loren (Connie), Karen Kundy and Chuck (Colleen), nieces, nephews, other relatives and friends. He is preceded in death by his parents, wife; Nancy, one granddaughter; Abbe Fritz, one sister; Jan Frieberg and one brother; Stanley, in infancy.
Mass of Christian Burial will be held at 11:00 AM Friday March 16, 2018 at St. Joseph Catholic Church in Menomonie with Rev. James Kurzynski officiating. Burail will be in the church cemetery with Military Honors provided by the Menomonie Veterans Honor Guard. Visitation will be held from 4:00 to 8:00 PM Thursday at Rhiel Funeral Home in Menomonie and one hour prior to services at the church on Friday.