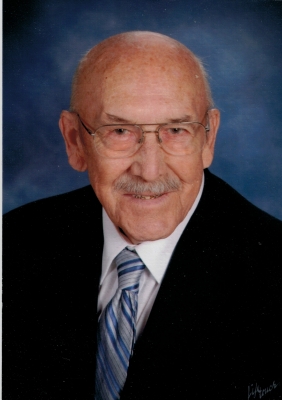 Everett James Traxler age 90 of Eau Claire, passed away at home on March 24, 2018.
He was born February 6, 1928 to Henry and Mabel (Mittelstadt) Traxler in their farm home in the town of Menomonie, Wisconsin. Everett was raised in his home surrounded by loving grandparents John and Kathryn (Kunegunda Frisle) Traxler and close to grandparents Herman and Emma (Schultz) Mittelstadt.
Everett attended school at Tramway Elementary, St. Joseph's School and Menomonie High School. He worked as a hired man for area farmers and at the Wisconsin Milling Co. before being drafted for Army service in 1946.
When he came home after an honorable discharge, he worked for the Aluminum Co. in Menomonie before being hired by Dairyland Power Cooperative in 1948 where he worked until his retirement in 1992. He started as tree climber on the line construction crew, became a lineman and retired as Area Supervisor of Line Maintenance-North End.
Everett met Mary Lou Dahl at school when they were both sixteen. He started their 74 year romance by asking to take her home from Catechism class. They loved to dance together. Mary is the daughter of Edward and Angeline (Schumacher) Dahl; (stepdaughter to Walter Proudlock).
Everett and Mary were engaged before he left for service and were married October 28, 1950 at St. Joseph's Church at Elk Mound.
They started married life and lived in La Crosse, Austin MN, Albert Lea, MN and Postville, IA, all for short periods while he worked on line construction. They were blessed with two children, Annette and John. The family lived at Barron, for nine years, Woodville, 26 years, Chippewa Falls, two years and in Eau Claire, since 1989.
Everett was a gardener, a woodworker, and he had his private pilot's license. He was a builder (working with his son, John, and grandson Michael), musician and a member of the Knights of Columbus.
Everett is survived by the love of his life for 68 years, Mary (Dahl) Traxler, daughter, Annette (John) Brumbaugh, son, John (Gloria), grandchildren Cole (Brooke), Michael (Hannah), Mallory (Aaron), Katharine (Michael), MacKenzie and Jordan, great grandchildren, Kaden, Maveric, Crew, Emmett, Reed and Elizabeth.
He is also survived by brothers Bernard and Jerome (Jan), brother-in-law Donald Dahl, sisters Norma Mercer, and Barbara Gorton; Sisters-in-law, Vi Traxler, Harriet Traxler and Vivian Barton and many nieces and nephews. Everett will be missed by neighbors, friends, coworkers and gardeners.
He is preceded in death by his parents, brothers Raymond, and infant brothers Henry, Lawrence and Marshall, a sister Jean Moore, granddaughter Emily Angeline Brumbaugh, and sister-in-law, Jan Dahl.
Memorial service will be 11:00 AM Wednesday April 4, 2018 at St. Olaf's Catholic Church in Eau Claire. Burial will be at a later date at St. Joseph's Cemetery in Menomonie.
Visitation will be held one hour prior to services at the church on Wednesday