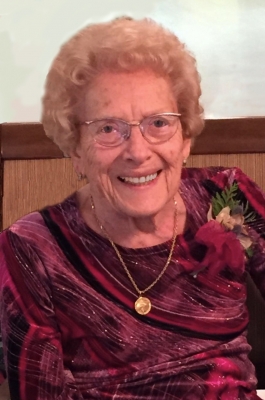 Thalice Marie Angela (Strese) Nicklas, age 102 of Durand, died Tuesday, March 27, 2018 at Sacred Heart Hospital in Eau Claire with her family by her side.
Thalice was born on December 24, 1915 in Durand. She was the daughter of William Herman and Marie Angela (Luebker) Strese. Thalice lived in Durand her entire life, graduated from St. Mary's School in 1929 and graduated from Durand High School in 1933.
During the Great Depression in 1934, she was employed as a secretary for the Political Council of CWA administration in Durand. Thalice then attended the Eau Claire State Teachers College, now UW Eau Claire, and also Wausau Vocational School in Wausau.
In 1937, Thalice started working as a bookkeeper at the Durand Hardware Store. On April 15, 1941 Thalice married John T. Nicklas at St. Mary Catholic Church in Durand. She became a partner in the business with her husband, John until they sold the business in 1984.
Thalice was a lifetime member of St. Mary Catholic Church and was very active in the Rosary and Altar Society. She was active as a Girl Scout Leader and Boy Scout Leader. Thalice was very devoted to her family and shared special times with them at Lake Pepin. She was an excellent seamstress and loved creative activities both at her leisure as well at the Durand Hardware. Thalice was always willing to try new things. Her love of nature and flowers started at a young age with her own wildflower garden and carried throughout her whole life. Gardening brought her great joy. "Perseverance Wins the Way" was her motto.
As a parent of five children, Thalice instilled strong values and deep faith in her family. Thalice's greatest joy came from being a grandmother and great grandmother. Her family considered themselves blessed to have such a supportive, loving and devoted mom who unselfishly persevered through many trials to ensure her family grew up in a happy home and knew they were unconditionally loved throughout their lives.
Thalice is survived by her children; Joan (John) Shanahan of Fond du Lac, Nancy (Jim) Moody of Stockholm, Linda (Jim) Baumgartner of Barrington, IL, William (Debra) of Bonita Springs, FL and Catherine (Brent) Gasser of Lake Delton, 13 grandchildren; Patricia (Glenn), John (Jennifer), Joseph (Brita), Emily (Brad), Beth Charlotte (Robbie), James "Nicklas" (Jenna), Kathryn, Will (Jen), Theresa, Katrina, Brennan, Christopher and Natalie, 11 great grandchildren, nieces, nephews, other relatives and friends. She is preceded in death by her parents, her husband; John Nicklas, two sisters; Dorothy Hill and Ruth Stephens and one brother; Lt. William Strese Jr.
Memorial Mass will be 10:00 AM Saturday, April 21, 2018 at St. Mary Catholic Church in Durand with Rev. Paul Bosco officiating. Burial will be in the church cemetery. Visitation will be from 4:00 PM – 7:00 PM Friday, April 20, 2018 at the Rhiel Funeral Home in Durand and one hour prior to services at the church on Saturday.
In lieu of flowers, memorials may be made in Thalice's name to the Plum City Care Center or the American Macular Degeneration Society, www.macular.org/how-donate.
Rhiel Funeral Home & Cremation Services, Durand, is serving the family.
Condolences may be made online at www.rhielfuneralhome.com.