Charles W. "Charlie" Sinz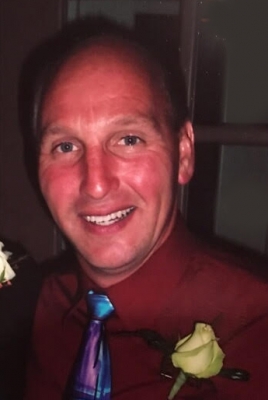 Charles "Charlie" Sinz, age 59, passed away suddenly at his home on April 1, 2018.
Charlie was born November 28, 1958 in Durand. He was the son of Lyle and Blanche (Brenner) Sinz. He graduated from Durand High School and then attended UW-Madison Agricultural Short Course. Charlie returned home to join his Dad on the family farm.
Charlie married his high school sweetheart Karen Bowen at St. Mary's Catholic Church in Durand on September 30, 1978. Charlie and Karen took over the farm where they raised their three children Tony, Denise and Christopher.
In his early years, Charlie loved competing in antique tractor pulling and won many trophies. He was a very social and outgoing person who loved a good conversation whether he knew you or just met you. For 36 years, Charlie and Karen made many memories with their friends at "card club." Charlie loved being with his family and friends at the hunting shack or at the cabin he built in Eau Galle. He also enjoyed family vacations and was an avid Badger and Packer fan. One of his favorite hobbies was looking for machinery. In addition, Charlie enjoyed sharing his love for farming with visitors, especially his grandchildren in-kind.
Charlie has four brothers and three sisters: Bob (Laurel) of Eau Claire, Ron (Marilyn) of Eau Galle, Tom (Deb) of Menomonie, Jane (Dan) Weisenbeck of Durand, Paul (Lisa) of Stillwater, Susan (Tom) Udelhoven of Eagan, Mary (Scott) Schmidt of Eden Prairie, and mother-in-law Jeanette Bowen. He was preceded in death by his son, Tony, parents, Lyle and Blanche, and father-in-law, Norman Bowen. He was cherished by many nieces, nephews, in-laws and close friends.
Charlie will be reunited with his son, Tony, who passed away 9 months ago. Farming was their special bond. They talked every day and Tony often came home to help on the farm. Charlie died of Broken Heart Syndrome.
Funeral Mass will be 11:00 AM Friday, April 6, 2018 at St. Henry's Catholic Church in Eau Galle with Rev. Jerry Hoeser officiating. Burial will be in the church cemetery. Visitation will be held from 4:00 PM – 8:00 PM Thursday at the Rhiel Funeral Home in Durand and one hour prior to services at the church on Friday.
In lieu of flowers, monies will be used for a scholarship fund at a later date.
Rhiel Funeral Home & Cremation Services, Durand, is serving the family.