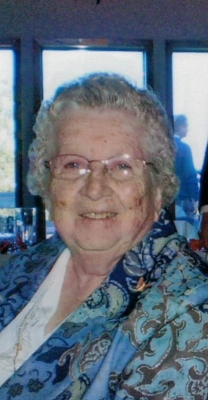 Lorena M. Bauer, age 92 of Durand, died Saturday, April 14, 2018 at the Assisted Living of Durand.
Lorena was born on July 9, 1925 in the Town of Peru, rural Dunn County. She was the daughter of Fred and Hannah (Poeschel) Fedie. Lorena attended and graduated from Red Cedar Public Grade School. Lorena married Alfred B. Bauer on May 11, 1943 at Holy Rosary Catholic Church-Lima in Durand. They were lifelong members of Holy Rosary Catholic Church. Lorena and Alfred were blessed with four wonderful children. After marriage they lived on the farm and raised their family. Lorena had fun but also worked hard milking cows, feeding chickens, calves and pigs. As her family grew, they became a great help to her.
Lorena enjoyed her flower and vegetable gardens, canning, cooking, picking berries, baking pies, cookies, cakes and poppy rolls. Her kitchen was always open to everyone. She was a kind compassionate woman, Lorena did volunteer work where needed, especially at the church and school. Lorena loved playing cards, dancing and visiting friends. Lorena and Alfred also enjoyed taking trips across the country, especially Valley Fair, Nashville, Kentucky and Washington D.C. Most of all, Lorena loved to spend time with family and friends, especially her grandchildren and great grandchildren.
Lorena is survived by her four children; Duane (Delores) of Durand, Dorothy (Dave) Hays of Eau Claire, Rosemary Brion of Durand and Mike J. (Betty) of Mondovi, ten grandchildren; Doug (Summer), Darrin (friend, Cathy), Dixie (Antonio), David, Linda, Curt (Lisa), Kim (Gary Jr.), Cory (Hannah), Jamye (Amy) and Jodi (Jeremy), 14 great grandchildren; Devany, Drae, Austin, Kyle, Christopher, Kaylee, Kelci, McKenzie, Ashley, Logan, Kalea, Aubryn, Nick, and Leah, nieces, nephews, other relatives and friends. She is preceded in death by her parents, husband; Alfred, son-in-law; Mike Brion, great grandson; Dustin in infancy, three brothers; Fritz, Clarence and Willard Fedie and one sister; Helen Poeschel.
The family would like to thank Marianne and Doug Van Stedum and the staff at the Assisted Living of Durand for the wonderful and loving care of Mom over the last year. They would also like to thank Dr. Kenneth Rucker, Dr. Enoch Arhinful, Fr. Paul Bosco and Msgr. Jeffrey Burrill for their care and guidance.
Funeral Mass will be 11:30 AM Friday, April 20, 2018 at Holy Rosary Catholic Church-Lima in Durand with Rev. Paul Bosco officiating. Burial will be in the church cemetery. Visitation will be from 4:00PM-6:00PM Thursday at the Rhiel Funeral Home in Durand and one hour prior to services and the church on Friday.
Rhiel Funeral Home & Cremation Services, Durand, is serving the family.